Mega Fam
Malaysia Mega Familiarisation Programme
The Malaysia Mega Familiarisation Tour Programme or "MEGA FAM" was introduced in 1999 and implemented in year 2000 following the meeting between the Minister of Culture, Arts and Tourism and representatives of Malaysia's tourism industry. The strategic focus of this programme is to coordinate efforts of both public and private sectors in promoting Malaysia as preferred holiday destinations.
Conceptually, the Programme is perceived as a bold and aggressive Public Relation exercise ever taken by Tourism Malaysia. It is designed as a strategy to create greater impact among the international travel community and can also be viewed as a repositioning strategy for Malaysia as a quality and value- for-money tourist destination, considering the dynamic changes in demand, taste and preference of international travellers.
GOALS
The programme intends to provide participants with first-hand information and experience on Malaysia, which helps to overcome any misconception about the political, economic and social aspects of the country.
To ensure continuous publicity on new and existing tourism products hence encourage tourist arrivals and tourism receipt to Malaysia
For International media that is interested to participate and enhance the promotion of tourism destinations in Malaysia, kindly reach our overseas offices that is nearest to you. Click here for more information.
For Malaysia tourism players that would like to work closely with us, please register your interest here.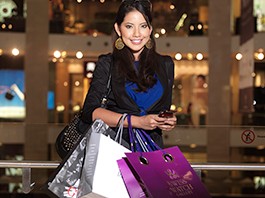 1MALAYSIA MEGA SALE CARNIVAL
The country 's biggest shopping extravaganza –– the annual 1Malaysia Mega Sale Carnival –– are back again, offering big bargains, huge discounts and fun-filled promotional activities put together by malls, retail stalls and other participating trades throughout Malaysia.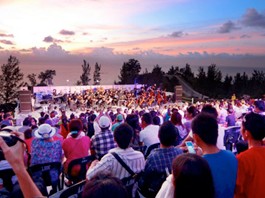 SUNSET MUSIC FEST
Tip of Borneo, Kudat, Sabah
5 Jun 2015 - 7 Jun 2015
Embark on a musical journey at Tanjung Simpang Mengayau in Sabah, the northern-most tip of Borneo. Delight in an evening of classical favourites and contemporary tunes brought to you by a talented line-up of performers as the sun sets over the Sulu and South China Seas. You won't want to miss this amazing musical experience. The stage is set for one of the most breathtaking outd o or musical events of the year – right here at the iconic Tip of Borneo!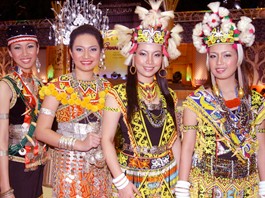 GAWAI DAYAK OPEN HOUSE (MRTM)
Kuching, Sarawak
1 Jun 2015
Throughout the years, the Gawai Day has become a symbol of unity, aspiration and hope for the Dayak community. It is a day of giving thanks to the spirits that have bestowed a bountiful harvest to the community, and marks the preparation for a new farming season and life in general. The whole community takes part in the celebration which involves a lot of rituals, singing, dancing and sharing of traditional food and drinks such as tuak, a wine made of fermented rice. Enchant yourself by the various cultural performances and traditional delicacies.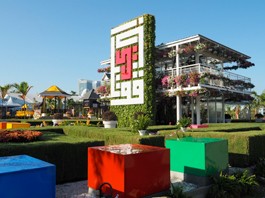 ROYAL FLORIA
Tapak Floria, Presint 4, Putrajaya
31 May 2015 - 7 Jun 2015
The Royal FLORIA Putrajaya, the biggest flower and garden festival in the country, is back, stronger than ever. The floral fest is scheduled to be held from May 30 until June 7, 2015 in the federal administrative capital of Putrajaya. The much awaited annual flower and garden festival would be showcasing an abundant variety of flowers over nine consecutive days with lily or lilium as the central flower theme of the festival.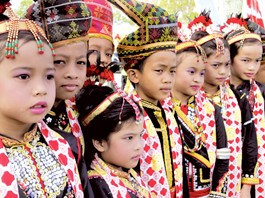 TADAU KAAMATAN OPEN HOUSE
Penampang, Sabah
30 May 2015 - 31 May 2015
Come together and celebrate the Tadau Ka'amatan in Sabah! This month-long Harvest Festival celebrates the cultural lifestyle of the Kadazandusun community of Sabah. It is held to welcome the new Harvest Season and to offer gratitude for the good harvest. The event is usually celebrated with general merry-making, cultural performances, traditional sports, and of course, the Unduk Ngadau (Harvest Festival Queen) pageant. Guests will be enthralled by cultural performances and traditional delicacies. It's a great opportunity for visitors to experience the hospitality and celebrations of the Sabahans.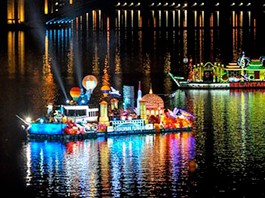 MAGIC OF THE NIGHT 2015
Marina, Putrajaya
28 May 2015 - 31 May 2015
Enjoy a dazzling evening with the glittering lights of decorated floats brought in from every state in Malaysia. This event features Malaysia as one of the world's top tourist destinations. Enjoy a grand showcase of the country's flora and fauna as well as the attractions found in the different states in Malaysia.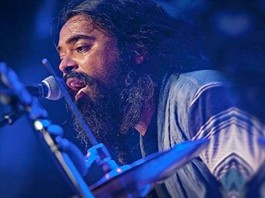 PENANG WORLD MUSIC FESTIVAL 2015
Quarry Park, Penang Botanic Gardens
11 Apr 2015 - 12 Apr 2015
Penang World Music Festival features a colourful assortment of performances ranging from traditional to fusion. Experience mind-blowing performances by international musicians from Spain, Germany, South Africa, India and more. Marvel at the fusion of historic and contemporary attractions, right in our UNESCO Heritage City. We invite you to experience food that will exhilarate your taste buds while indulging yourself in this all-in-one music and culture trip.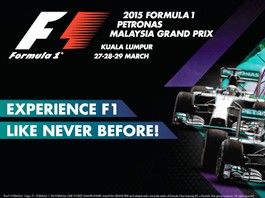 F1 PETRONAS MALAYSIA GRAND PRIX 2015
Sepang International Circuit
27 Mar 2015 - 29 Mar 2015
Watch adrenaline-pumping action at one of the most awesome tracks in the world. With its extreme hot and wet conditions, Sepang International Circuit is a challenge even for the finest drivers in the world. Don't miss this Hot! Hot! Hot! Race!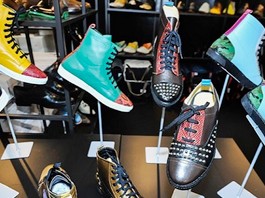 GP SALE MALAYSIA INTERNATIONAL SHOE FESTIVAL
From glamorous stilettos to stylish sandals, classic pumps and trendy boots, the festival takes visitors on a fascinating journey into the world of designer footwear. Experience the shoe shopping with Jimmy Choo and enjoy a greeat discount for your shoes with vast of latest fashion by local and international shoe designers. This 56h festival will bring you a variety of shoes, fashion show, shoe making demonstration and shoe designing competition.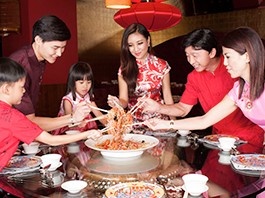 CHINESE NEW YEAR OPEN HOUSE (MRTM)
Teluk Intan, Perak
28 Feb 2015
Chinese New Year is a time for celebration and merrymaking. Family reunion feasts and open houses are a common feature and children receive 'ang pows' or little red money packets from the elders. Don't miss the exciting lion and dragon dance performances at shopping malls and homes!