About Malaysia Tourism Awards
The Malaysia Tourism Awards is the highest form of recognition by the Ministry of Tourism and Culture and Tourism Malaysia for industry players whose outstanding contributions have played a significant role in the success of Malaysia's tourism industry.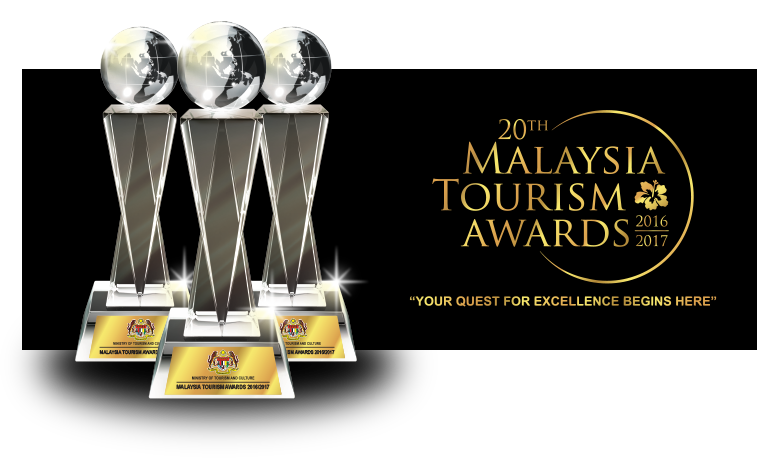 Since its inception in 1987, the Malaysia Tourism Awards has evolved many times to reflect the changing tourism landscape. Initially called the Malaysia Tourism Gold Awards, it was later renamed the Malaysia Tourism Awards in 1993 to better reflect the distinction of the awards and the corporate image of Tourism Malaysia.
In 2000, the awards evolved from a locally-focused recognition to include the contributions of the international tourism fraternity towards Malaysia's tourism industry.
Recognition was given to foreign tour operators who diligently marketed Malaysia to their respective target audience, and members of the media who promoted Malaysia through their publications.
The 20th edition of the Malaysia Tourism Awards brings with it yet more improvements to better reflect the global landscape of tourism today.
Several improvements have been made to the awards this time. Two new categories have been introduced for this edition of the Malaysia Tourism Awards, namely, "Best Entertainment Spot" and "Best Airline." These awards acknowledge the private sector effort in accomplishing the Tourism NKEA objectives of establishing a "Dedicated Entertainment Zone (DEZ)" and enhancing connectivity from medium-haul markets to capitalize on the high-yield tourism market.
The "Best Travel Documentary on Malaysia" category has been revamped to "Best Travel Documentary and TV Commercial on Malaysia" while "Best Tourism Article" will focus on articles on Malaysia in both printed and online media by local and foreign writers.
Nominations for all categories will be accepted beginning 8 September and the last day to submit all nominations are on 7th October 2017.
Submissions can be made by the nominee through self-nomination, or by members of the tourism industry and the public. Nomination forms must be completed with nominee profiles as well as related supporting documents.