TOURISM MALAYSIA KICKS OFF THE FOOD & CULTURAL FESTIVAL IN SHANGHAI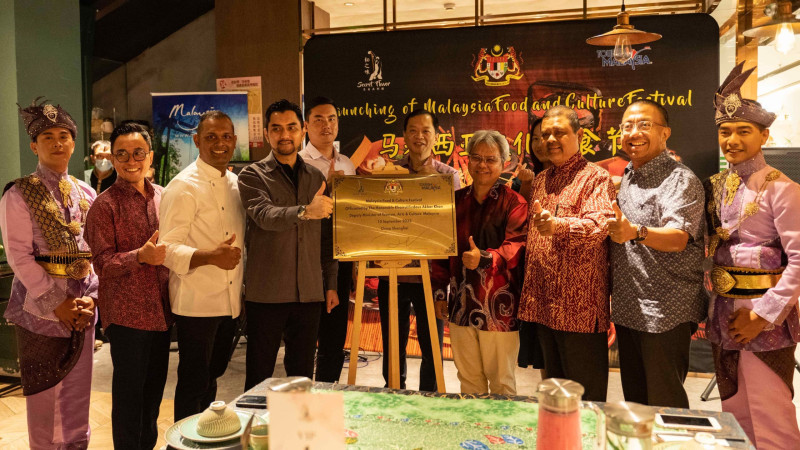 SHANGHAI, 14 September 2023 – The Deputy Minister of Tourism, Arts and Culture, YB Tuan Khairul Firdaus Akbar Khan launched the Malaysia Food and Culture Festival at a Malaysian restaurant, Secret Flavor in Shanghai.
The promotion is part of Tourism Malaysia's second sales mission to China and participation in the travel tradeshow ITB China in Shanghai, which is led by the Deputy Minister. This festival aims to introduce and promote Malaysia through the country's rich and diversified cultures and authentic cuisines. It runs from 10 September to 16 September 2023 and coincides with the Merdeka month, celebrating the independence of Malaysia and Malaysia Day.
"The sharing of a meal with family and friends is a common practice in Malaysia which fosters harmony and unity, especially in a multiracial country like ours. The endless varieties of cuisines influenced by the different cultures not only make Malaysian gastronomy interesting and authentic, but also one of the selling points to promote Malaysia to food enthusiasts," said YB Tuan Khairul Firdaus Akbar Khan during the launching of the Malaysia Food and Culture Festival.
Tourism Malaysia has teamed up with Secret Flavor Restaurant situated in the Paris Spring Shopping Mall, Huaihai, Shanghai. This restaurant is owned by a Shanghai-based Malaysian, Chef Shah and it was opened in 2015. Secret Flavor offers Malaysia's popular dishes such as char koay tiau, nasi goreng kampung, mee goreng mamak and the famous beverage teh tarik or 'pulled tea'.
Chef Shah is also a champion teh tarik expert, winning competitions back in Malaysia. Chef Shah said that being able to cook authentic Malaysian dishes in China is a dream come true for the Pahang-born man.
The guests also were treated to a special cultural performance from the National Department for Culture and Arts of Malaysia, which was specially flown in all the way from Malaysia. The dancers performed a special opening overture and other dances that depict the multiracial culture of Malaysia.
China remains one of the top market sources for Malaysia and contributed 211,363 arrivals to the country last year. Up to the month of May 2023, Malaysia received 403,121 Chinese tourists, compared to 21,613 (+907.2%) in the same period last year. Malaysia is currently targeting to receive 16.1 million international tourist arrivals with RM49.3 billion in tourism receipts, with 5 million arrivals targeted to be from the Chinese market.
Through its overseas offices in Beijing, Shanghai and Guangzhou, Tourism Malaysia continues to intensify promotions alongside travel agents and airlines. With the resumption and announcement of new international routes from Malaysia-based airlines and China-based airlines Air China, Spring Airlines and Xiamen Air there are currently 232 flights per week between China and Malaysia.
END
About Tourism Malaysia
Malaysia Tourism Promotion Board, also known as Tourism Malaysia, is an agency under the Ministry of Tourism, Arts & Culture Malaysia. It focuses on the specific task of promoting Malaysia as a preferred tourism destination. Since its inception, it has emerged as a major player in the international tourism scene. For more information, visit Tourism Malaysia's social media accounts on Facebook, Instagram, Twitter, YouTube, and TikTok.
About Secret Flavor Restaurant
The restaurant first opened its doors in 2015, serving up Malaysian specialty dishes to the Chinese population in Shanghai. Chef Shah, the owner of Secret Flavors Restaurant is a culinary artist from Malaysia with 20 years of experience. He has been working in Kuala Lumpur, Taipei, Shenzhen, Chengdu, Shanghai and other countries and cities, serving many prestigious international chain hotels.
Location: Secret Flavor Restaurant Level 4, Paris Spring Shopping Mall 939 Huaihai Rd (M), Shanghai, China, 200041
For enquiries, please contact:

Nuwal Fadhilah Ku Azmi
Deputy Director International Promotions Division (Asia/Africa)
nuwal@tourism.gov.my
Tel: +603 8891 8212

Muadz Samat
Assistant Director, Corporate Communications Division
muadz@tourism.gov.my
Tel: +603 8891 8755