MAJOR BOOST FOR MALAYSIA'S TOURISM IN CONJUNCTION WITH 50th ANNIVERSARY OF MALAYSIA-VIETNAM DIPLOMATIC RELATIONS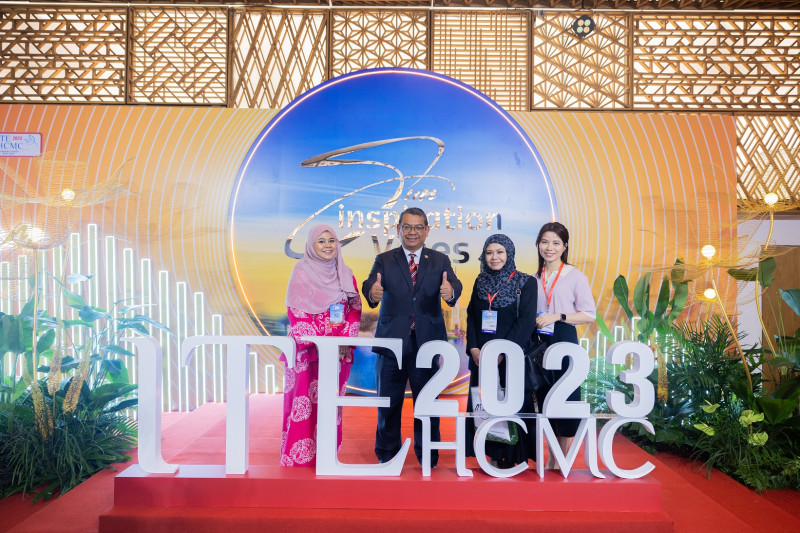 HO CHI MINH CITY, 11 September 2023 – In conjunction with the 50th anniversary of the establishment of Malaysia-Vietnam diplomatic relations this year, Tourism Malaysia is stepping up its promotion to attract more tourists from the Vietnamese market as both countries have basically agreed to cooperate in organising several programmes to make the golden jubilee celebration a success.
Tourism Malaysia is spearheading collaborative efforts in bringing together Malaysia's travel trade parts, airlines and government representatives by engaging with its counterparts in a Seminar, Business to Business (B2B) Session and Networking Dinner in Ho Chi Minh City today.
Dato' Roslan Tan Sri Abdul Rahman, Secretary General of the Ministry of Tourism, Arts and Culture Malaysia, said: "Vietnam is one of the top source markets for Malaysia, and we hope Vietnamese tourists will take advantage of the reasonable flight rates to Malaysia in conjunction with this 50 years of diplomatic relations between Malaysia and Vietnam."
"As of June 2023, Malaysia welcomed 161,795 visitors from Vietnam compared to 173,763 arrivals logged in 2022. This year, we are targeting 300,000 tourist arrivals from Vietnam, and we are optimistic to achieve this number due to the increased number in flight frequencies and intensified promotional activities."
Among the attendees in the seminar include representatives from Malaysia Airlines Vietnam, AirAsia Vietnam, Batik Air Vietnam, Sabah Tourism Board, Malaysia Convention & Exhibition Bureau (MyCEB), Sepang International Circuit, GIT Tours & Travel, LAGO Travel, Marine Discovery Holidays, E Like Travel & Tours, Hydramas Travel, Columbia Leisure, Asia Delight Tours, Wynn Travel, The Blanket Hotel Management, Hotel Ibis KLCC, Resort World Genting, Movenpick Hotel & Convention Centre KLIA, Riyaz Hotels
& Resorts Sdn Bhd, The Everly Hotel, SplashMania Waterpark Gamuda Cove, A Famosa Resort Melaka, and Regency Specialist Hospital.
Besides that, this year also saw Malaysia's participation in the International Travel Expo (ITE) 2023 at Ho Chi Minh City (HCMC) from 7 - 9 September 2023 through the Tourism Malaysia Ho Chi Minh City office. The Malaysia Pavilion's concept reflected the unique wonders of Malaysia's nature and travel destinations with decoration of photos highlighting various tourist destinations and tourism products, including shopping, theme parks, and business events in Malaysia.
Ms. Nor Hayati Zainuddin, Director of Tourism Malaysia Ho Chi Minh City, said: "ITE HCMC 2023 is one of the strategic platforms to increase the Malaysia Truly Asia brand visibility in promoting Malaysia as a top-of-mind destination, and we look forward to any possible partnership opportunities and business networking with the Vietnam tourism industry players."
"Furthermore, we are more than happy to assist and support any new travel package initiatives to bring in more Vietnamese tourists to Malaysia, and we appreciate Vietnam's local travel agents for their continuous support in promoting Malaysia."
Malaysia is eyeing to attract 16.1 million international tourist arrivals this year, with a target of more than RM 49.2 billion in tourism receipts. As of now, the flight frequency from Vietnam to Malaysia is 156 flights per month, with a total of 27,908 seating capacity.
END
About Tourism Malaysia
Malaysia Tourism Promotion Board, also known as Tourism Malaysia, is an agency under the Ministry of Tourism, Arts & Culture Malaysia. It focuses on the specific task of promoting Malaysia as a preferred tourism destination. Since its inception, it has emerged as a major player in the international tourism scene. For more information, visit Tourism Malaysia's social media accounts on Facebook, Instagram, Twitter, YouTube, and TikTok.
For enquiries, please contact:
Nor Hayati Zainuddin
Director, Tourism Malaysia Ho Chi Minh City
norhayati@tourism.gov.my
Tel: +84 9626 70004

Muadz Samat
Assistant Director, Corporate Communications Division
muadz@tourism.gov.my
Tel: +603 8891 8755