TURKISH AIRLINES TO ENHANCE ITS FLIGHT FREQUENCIES IN MALAYSIA WITH THE LAUNCH OF ADDITIONAL FLIGHTS TO KUALA LUMPUR.

Flying to more countries than any other airline, Turkish Airlines operated its first direct flight to Kuala Lumpur, Malaysia on April 25, 2013, with 3 frequencies per week. Barely a year into operation, Turkish Airlines started operating daily to and from Kuala Lumpur. Coming into a decade of operation in Malaysia, Turkish Airlines increases its Kuala Lumpur weekly frequencies by adding additional 3 frequencies weekly with the flights that started October 1, 2022 from Istanbul.
Tourism Malaysia strongly supports the increase in international direct frequency flights by Turkish Airlines as this will bring even more visitors from across their network to Malaysia and further boost the economy for a strong rebound in our tourism industry.

The easing of international travel protocols and the relaxation of the entry procedures to Malaysia will also increase the travel demand to Malaysia and boost connectivity from other international continents. Tourism Malaysia welcome all visitors to explore Malaysia's beautiful and diverse attractions.

Malaysia Airports Holdings Berhad has witnessed Turkish Airlines' rapid growth in Malaysia throughout the years and it remains confident of the airline's continued success at KL International Airport (KLIA). The airport operator is pleased that the airline is increasing its flight frequency which will contribute to the growth of the aviation and tourism sectors of the country post pandemic. Currently, there are 42 foreign airline partners operating at its network of airports. Malaysia Airports hopes to see the recovery of more airlines at its airports as air travel regains its momentum this year.

Operating 10x weekly flights a week, new additional frequencies will be able to accommodate more demand for passenger departing from KL International Airport (KUL) to more than 320 destinations in over 120 countries from all round the world via Istanbul (IST).

Scheduled flight times: Summer 2022 – (1-30Oct 2022)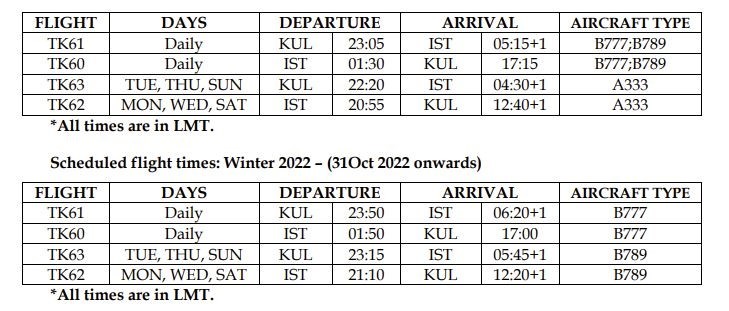 To view the flight schedules please visit www.turkishairlines.com, contact the call center at +603 2053 1899 or visit any Turkish Airlines sales office.
###

About Turkish Airlines:
Established in 1933 with a fleet of five aircraft, Star Alliance member Turkish Airlines has a fleet of 373 (passenger and cargo) aircraft flying to 328 worldwide destinations as 278 international and 50 domestic, in 128 countries. More information about Turkish Airlines can be found on its official website www.turkishairlines.com or its social media accounts on Facebook, Twitter, YouTube, LinkedIn, and Instagram.

About Star Alliance:
The Star Alliance network was established in 1997 as the first truly global airline alliance to offer worldwide reach, recognition and seamless service to the international traveller. Its acceptance by the market has been recognised by numerous awards, including the Air Transport World Market Leadership Award and Best Airline Alliance by both Business Traveller Magazine and Skytrax. The member airlines are: Adria Airways, Aegean Airlines, Air Canada, Air China, Air India, Air New Zealand, ANA, Asiana Airlines, Austrian, Avianca, Avianca Brasil, Brussels Airlines, Copa Airlines, Croatia Airlines, EGYPTAIR, Ethiopian Airlines, EVA Air, LOT Polish Airlines, Lufthansa, Scandinavian Airlines, Shenzhen Airlines, Singapore Airlines, South African Airways, SWISS, TAP Air Portugal, THAI, Turkish Airlines and United. Overall, the Star Alliance network currently offers more than 19,000 daily flights to more than 1,250 airports in 195 countries. Further connecting flights are offered by Star Alliance Connecting Partner, Juneyao Airlines.
About Tourism Malaysia
Malaysia Tourism Promotion Board, also known as Tourism Malaysia, is an agency under the Ministry of Tourism, Arts & Culture Malaysia. It focuses on the specific task of promoting Malaysia as a preferred tourism destination. Since its inception, it has emerged as a major player in the international tourism scene. For more information, visit Tourism Malaysia's social media accounts on Facebook, Instagram, Twitter, YouTube, and TikTok.
About Malaysia Airports:
Malaysia Airports is one of the world's largest airport operator groups in terms of number of passengers handled. It manages and operates 39 airports in Malaysia and one international airport in Istanbul, Turkey. The 39 airports in Malaysia comprise five international airports, 17 domestic airports and 17 Short Take-Off and Landing Ports (STOLports). Its flagship airport, KL International Airport (IATA Code: KUL) is among the region's preferred aviation hub. Apart from operating and managing airports, the Group also drives airport development under its Aeropolis initiative focusing on three core clusters: air cargo and logistics, aerospace and aviation, and MICE and leisure. Its flagship airport, KLIA, is currently set up to be a regional distribution centre for eCommerce with the presence of the first global eWTP (electronic world trade platform) hub. Meanwhile, Lapangan Terbang Sultan Abdul Aziz Shah (LTSAAS) or better known as Subang Airport is being developed into a preferred aerospace and business aviation hub in Asia Pacific. It is currently the 2nd most preferred in Asia and 4th globally for business aviation MRO. Malaysia Airports Holdings Berhad is listed on the Main Board of Bursa Malaysia Securities Berhad (Bursa Malaysia). For more information on MAHB, please visit www.malaysiaairports.com.my

For inquiries, please contact:

Turkish Airlines Inc.
Office of Media Relations
General Management Building
34149, Yesilköy-Istanbul
Tel: +90 (212) 463 63 63 – 11153 / 11173
Fax: +90 (212) 465 20 7
press@thy.com