AWESOME MONTH-LONG CELEBRATION FOR LEGOLAND® MALAYSIA RESORT'S 10th ANNIVERSARY BEGINS NOW!
KUALA LUMPUR, 26 August 2022 – LEGOLAND® Malaysia Resort today kicks off its 10 years anniversary celebration with jam-packed activities and great offerings. Guests can look forward to exploring and creating more amazing memories with friends and families during this month-long celebration.
To mark the momentous occasion, LEGOLAND Malaysia Resort constructed a 12-feet tall LEGO® Anniversary Cake made of more than 90,000 LEGO DUPLO® bricks, which took up to 320 hours to complete. Designed with a touch of Malaysian flair, the Anniversary Cake features the Hornbill, Wau, and Hibiscus flowers and will be displayed for the entire month.
"A decade is a very significant milestone for us at LEGOLAND Malaysia Resort considering how much we've grown and build lifelong memories together. We have been creating wonderful moments and unique experiences together in LEGOLAND for the past 10 years and intend to continue doing so for many more," said CS Lim, Divisional Director at LEGOLAND Malaysia Resort.
He added, "To express our sincerest gratitude for the unwavering support from our guests, we have planned a bevy of amazing activities and offers that are reserved especially for this momentous celebration. Furthermore, on our official birthdate of 15 September, we have a special weekend-long celebration prepared which we hope will add-on to all the beautiful memories created here in LEGOLAND."
LEGOLAND has prepared month-long of awesome & fun activities for the big celebration such as:
Giant 10th Anniversary Cake:
Get your cameras ready, strike your best pose and capture this memorable moment with the giant 12-feet tall LEGO Build cake, specially constructed for the birthday celebration.
10th Birthday Lucky Draw
Stand a chance to win prizes worth up to RM50,000. For a chance to spin the Lucky Wheel and win LEGOLAND Hotel Stay, LEGOLAND Day tickets, LEGOLAND Annual Passes, LEGO Sets, and exclusive LEGOLAND merchandise, guests will be eligible to join with a minimum spend of RM99 at any retail store in LEGOLAND Malaysia Resort. Draws are hosted every Friday to Sunday and on Public Holidays. There will also be a special one-day only draw on Thursday, 15 September 2022.
Build Your Very Own LEGO DOTS Mosaic:
Set your inner creativity free and create bold and colourful mosaic using LEGO DOTS.
Your masterpiece will be featured in our LEGO DOTS booth for other guests to enjoy.
Think about every show you've ever wanted at your birthday party like Bubble Shows, Magician's extravaganza, Professional Balloon Sculptors, and Dance performances. LEGOLAND Malaysia will bring all of them to life at the resort so don't miss your favourite show.
Meet and Greet:
Meet and party with some of your favourite LEGO characters such as Emmet, Ollie The Dragon, Bricky, and our newest LEGO Characters.
Special Non-Stop Awesome Celebration only on 15 – 18 September
For the entire weekend of 15 – 18 September, guests will be treated to an awesome line-up of 1-hour non-stop shows including meet and greet with Jack & Emily, magic & balloon shows, dance along, special lucky draw with amazing prizes and more!
Birthday Themed Activities
Try your hand at our balloon sculpting workshop and bring home your best work
Participate in friendly basketball challenges at the Slam Dunk Fun corner to win amazing prizes
Snap your best moments with us at the DOTS Photobooth with our giant LEGO Dots photo frame
Help us find our hidden cupcakes at the Beginning and stand a chance to win a prize for the Cupcake Hunt activity
For more information on LEGOLAND Malaysia Resort's 10th Anniversary Awesome
Celebration,headovertotheofficialwebsiteat
https://www.legoland.com.my/explore/shows-entertainment/10th-anniversary/ or LEGOLAND social media pages on Facebook and Instagram.
###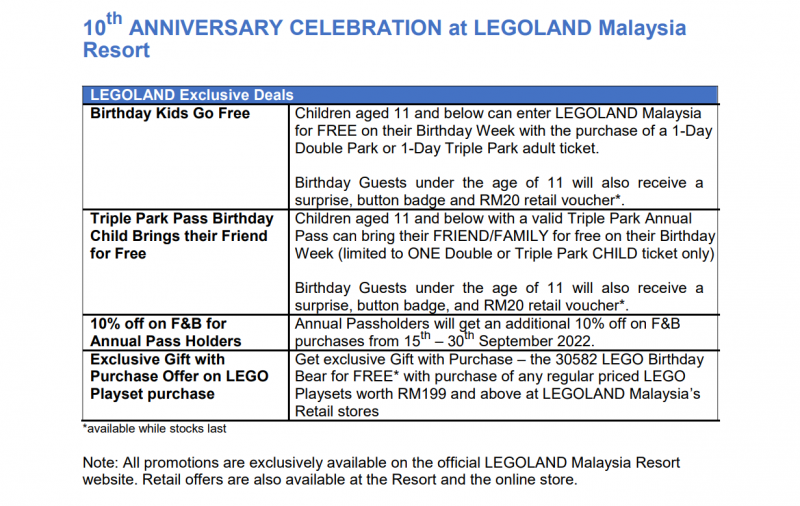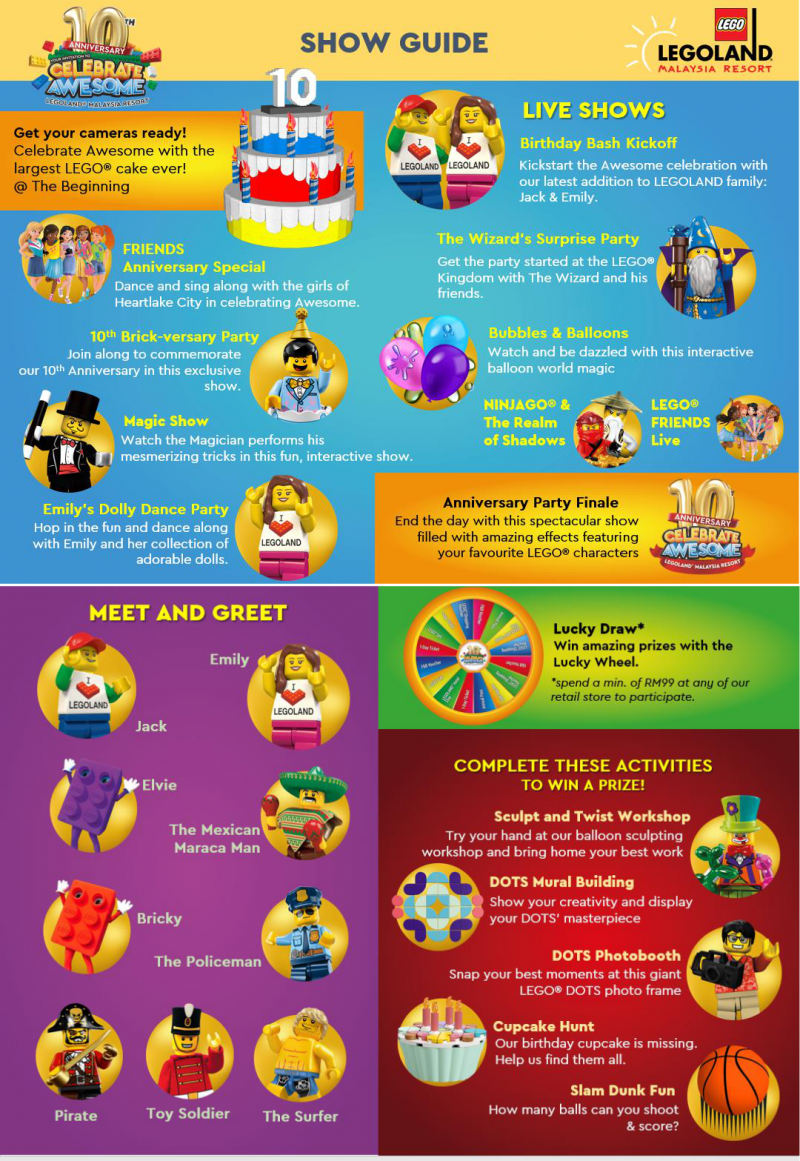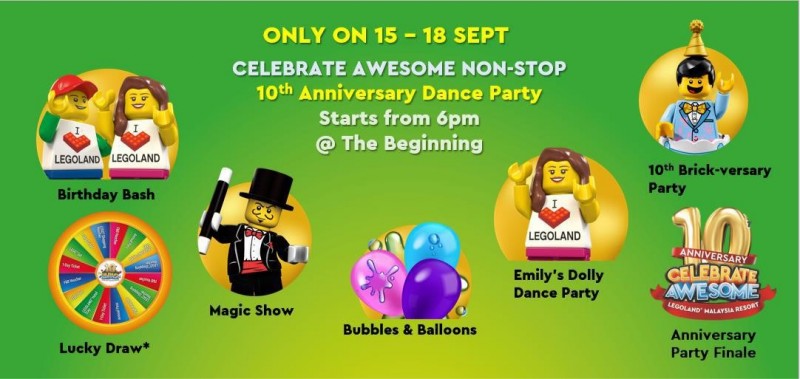 For media enquiries, please contact:
Cheng Sing Ying
LEGOLAND Malaysia Resort | Merlin Entertainments Group
Tel: +6 07 597 8816
Cheng.SingYing@legoland.my
Ashley Ong / Melanie Low
Archetype Malaysia
Tel: +6 03 2282 2152
legoland@archetype.co
About LEGOLAND® Malaysia Resort
LEGOLAND® Malaysia Resort brings together a LEGOLAND Theme Park, Water Park Hotel and SEA LIFE in one LEGO® themed location. It is the ideal family holiday destination with more than 70 hands-on rides, slides, shows and attractions. It is the first of its kind in Asia that offers comprehensive adventure, education and fun for either an action-packed day trip or a short break destination ideal for families with kids aged 2 to 12 years old.
The Theme Park is divided into eight themed areas containing thrilling rides, exciting LEGO workshops, awe-inspiring Miniland where Asia's interesting landscapes, countries and landmarks are recreated in miniature made with more than 30 million LEGO bricks. The Water Park is the largest LEGOLAND Water Park in Asia which features 20 unique slides, waves, wade pools, interactive water-play structure and Build-A-Raft River.
LEGOLAND Hotel Malaysia is the first LEGO themed hotel in Asia. Choose your preferred theme room at a hotel all equipped with LEGO theming elements, giving you choices to be trained like a NINJA, playing pirate, commanding a Kingdom or embarking on an adventure option. All rooms include a king- sized bed for parents and a separate private sleeping area for 3 kids. Participate in our in-room treasure hunt activity and stand a chance to win cool LEGO gifts.
SEA LIFE is the world's largest international aquarium brand with more than 50 outlets in the world and it is the latest addition to LEGOLAND Malaysia Resort. This attraction will immerse all guests in an intimate and interactive journey underneath the waves. All visitors will have chance to enjoy up-close experiences with sea creatures and be inspired to learn more about our blue planet's invaluable natural marine assets through magical storytelling, interactive displays and hands-on encounters. SEA LIFE Malaysia has more than 25 display tanks in 11 habitat zones featuring 13,000 amazing sea creatures. The Malaysian Rainforest is one of the unique exhibit zones featuring local creatures in Malaysia. Don't miss this special zone where you can never find it in other SEA LIFE attractions.
About Merlin Entertainments
Merlin Entertainments is the leading name in location-based, family entertainment. Europe's Number 1 and the world's second-largest visitor attraction operator, Merlin operates 139 attractions, 23 hotels and 6 holiday villages in 24 countries and across 4 continents. The company aims to deliver memorable and rewarding experiences to its millions of visitors worldwide, through its iconic global and local brands, and the commitment and passion of its employees. Visit www.merlinentertainments.biz for more information.