BERJAYA TIOMAN RESORT SET TO REOPEN ON 25 APRIL 2022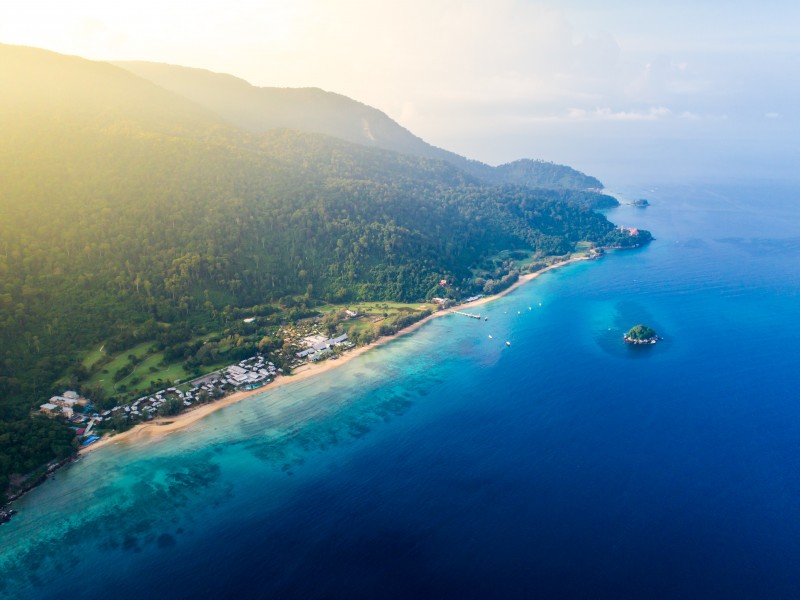 Berjaya Tioman Resort Set to Reopen On 25 April 2022
PAHANG, 11 MARCH 2022 - Berjaya Tioman Resort is scheduled to reopen its doors and welcome guests on 25 April 2022. The resort has recently undergone months of refurbishment to revitalise its rooms and facilities since its closure in 2020. Now that travel restrictions are eased for fully vaccinated travellers, guests can expect an elevated holiday experience when they travel to or revisit Berjaya Tioman Resort in the second quarter of the year.

With miles of palm-fringed private beach, crystal clear waters and surrounding misty mountains, Berjaya Tioman Resort has been a long-time favourite for beach lovers, divers, as well as golfers with its 18-hole golf course. Off the surface of water, guests will be spoilt for choice when the resort reopens with a new restaurant named 'Asean All Day Dining'. The outlet boasts a beachside view, offering a variety of tantalising local favourites, international and fusion cuisines.
To elevate guest experience and celebrate its reopening, the resort is offering 15% savings on its Infinite Getaway package and 20% savings on its Best Flexible Rates. The Infinite Getaway package, which is priced from RM1,499, can now be booked from RM1,275 nett per person for twin sharing basis. The package includes two nights' accommodation, daily unlimited meals of breakfast, lunch, afternoon tea, dinner and unlimited flow of selected alcoholic and non-alcoholic beverages. Complimentary return shuttle from Tekek Jetty to the resort and welcome hygiene pack are included as well. The first 100 bookings will also receive a one-time Aromatherapy Spa Treatment, one-time kayak usage and complimentary bicycle rental.
"We can't wait to welcome everyone back to rediscover this tropical paradise. Come dine and drink to your heart's content with unlimited inclusions throughout your stay. We guarantee you it's going to be a fresh and exciting holiday experience in Tioman," said Mr Simon Tan, the recently appointed Resort Manager of Berjaya Tioman Resort.
Mr Simon Tan was appointed as the Resort Manager on 10 January 2022. With over 27 years in the hospitality industry, he is a seasoned hotelier with a wealth of experience in managing international hotels.
"We always aim to take our hotel brand experience to the next level. For Berjaya Tioman Resort, we took the temporary closure as an opportunity to recreate our entire guest journey. With the refurbishment and Infinite Holidays daily unlimited inclusions of meals, beverages and activities, we hope to bring added value, enhance overall stay experience, and keep our guests coming back for more," said Mr Pravir Mishra, the Area General Manager of Berjaya Hotels & Resorts.
For more information about the resort and to book pre-opening special offers, visit https://tioman.berjayahotel.com/.
***END***
Media Contacts:
Maya Kaur
Manager, Corporate Marketing & Communications
Berjaya Hotels & Resorts
Tel: 03 - 2149 1867
maya.kaur@berjayahotel.com
Nahariah Abd Razak
Senior Executive, Corporate Marketing & Communications
Berjaya Hotels & Resorts
Tel: 03 - 2149 1846
nahariah.razak@berjayahotel.com

About Berjaya Tioman Resort
Berjaya Tioman Resort is situated on Tioman Island, off the east coast in the state of Pahang. Providing a haven from bustling city life, it captures the hearts of many with its traditional Malay-styled chalets set amidst miles of palm-fringed beaches, clear waters and misty mountains. As the island's only premier resort, Berjaya Tioman Resort offers exclusive chalet-style accommodation and an 18-hole international golf course sprawled over 210 acres of tropical rainforest. With its surrounding waters rich with marine life, dive enthusiasts can look forward to wondrous underwater adventures. For more information, visit https://tioman.berjayahotel.com/.
About Berjaya Hotels & Resorts
Berjaya Hotels & Resorts is a member of the Berjaya Corporation Group of Companies, a public listed Malaysian diversified consumer group with interests across various business sectors. Presently, the group manages Berjaya properties in Malaysia, Asia Pacific and United Kingdom. From the exotic island resorts of Langkawi, Tioman and Redang, to the city hotels of Kuala Lumpur, Johor Bahru and Penang in Malaysia, Berjaya Hotels & Resorts' prominence extends across borders with the establishment of international hotels and resorts in the Philippines, Vietnam, Sri Lanka, Seychelles, the United Kingdom, Japan and Iceland. The group also owns service suites and exclusive golf and country clubs in Malaysia. For more information, visit www.berjayahotel.com.