BATIK AIR COMMENCES FLIGHTS TO AUCKLAND VIA PERTH
PRESS STATEMENT
FOR IMMEDIATE RELEASE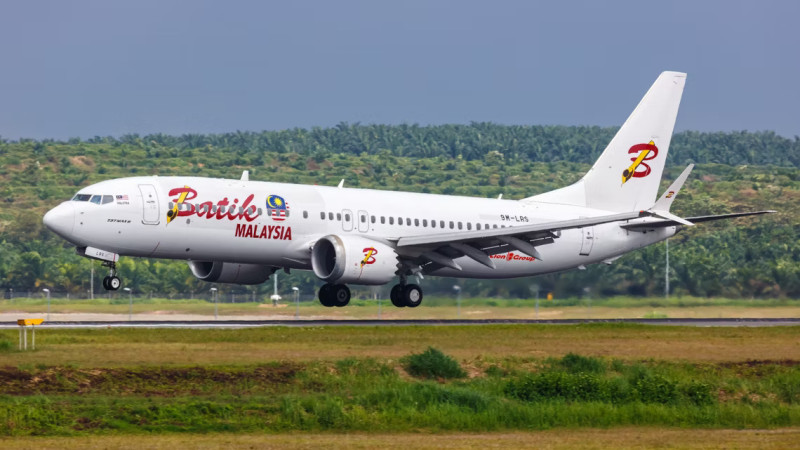 Kuala Lumpur, 22 August 2023 - Batik Air continues its expansion to the Australasia region with the launch of its latest route between Kuala Lumpur (KUL) and Auckland (AKL), New Zealand. The new service, which will operate six-times weekly via Perth (PER), Australia, will be commencing on 24 August 2023.

The introduction of this latest route to Auckland, the gateway to New Zealand, marks another significant milestone in Batik Air's ongoing efforts to broaden its footprint both in the Asia Pacific and the global markets. Renowned for its huge tourism potential, the "Land of the Long White Cloud" in the Maori language, presents an array of distinctive escapades, including thrilling outdoor adventures, rich indigenous heritage and a whole host of exciting possibilities.
Group Strategy Director of Batik Air and Lion Group, Datuk Chandran Rama Muthy said that the Kuala Lumpur - Auckland route highlights Batik Air's strong commitment to providing convenient travel options, which extends not only to Malaysians seeking to discover vibrant cities like Auckland but also to New Zealanders, offering them multiple services to explore the beautiful Malaysian destinations such as Penang, Langkawi, Kuching, and Kota Kinabalu.
"We hope that tourists from New Zealand will take advantage of our reasonable rates and dedicated services to explore Malaysia and beyond, by connecting to one of the other intriguing locations we fly to," he said, adding that the industry is experiencing high growth, particularly in the Australia-New Zealand regions.
Additionally, travellers can also benefit from seamless connectivity to numerous captivating destinations beyond the Kuala Lumpur International (KLIA) hub including to the Indian Subcontinent, North Asia, and ASEAN states, through the rapidly growing Batik Air and Lion Air Group network.
Batik Air is currently offering an all-inclusive one-way promotional fare between KUL - AKL atRM1,619for Economy Class andRM5,319for Business Class. This flight is operated using the brand-new Boeing 737-8 aircraft, which is fitted with 12 Business and 150 Economy Class seats. Please refer to the Fare Table for the remaining city-pairs.
Our all-in promotional fares are inclusive of 20kgs free baggage allowance for Economy Class and 40kgs for Business Class. Economy Class passengers may pre-purchase our special meals and any additional baggage requirements at a discounted rate which is available on Batik Air's official website. Meals and drinks are also available for sales on-board at attractive prices on all Batik Air flights.
To book flights and explore more about Batik Air, visit our official website www.batikair.com.my
Schedule: KUL - PER - AKL
Connect with us on virtual space via Facebook, Twitter or Instagram or through our website at www.batikair.com.my
For media inquiries, please contact:.
Hanna Hussein
Public Relations Manager, Batik Air
E: hanna.shah@batikair.com.my
Atiqa Hazellah
Public Relations Manager, Batik Air
E: atiqa.hazellah@batikair.com.my