TOURISM MALAYSIA RETURNS TO PARTICIPATE IN TOURISM EXPO JAPAN (TEJ) 2022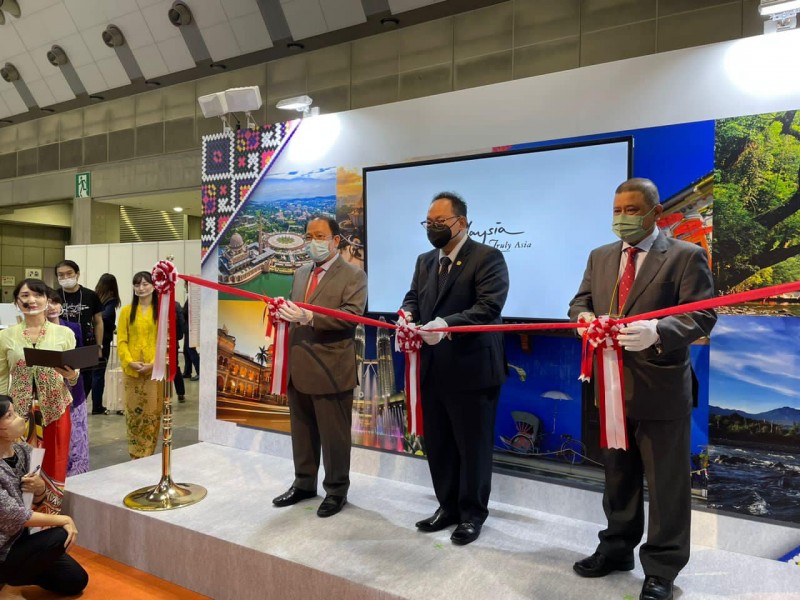 TOKYO, 22 September 2022 – Tourism Malaysia resumes participating at one of Japan's largest tourism fairs, Tourism Expo Japan (TEJ), for the 43rd year in Tokyo Big Sight, Tokyo. The four-day event from 22 to 25 September 2022 aims to entice Japanese tourists to return to Malaysia after two years of absence following the Covid-19 pandemic.

Headed by Dato' Haji Zainuddin Abdul Wahab, the Director General of Tourism Malaysia, the Malaysian delegation comprises one (1) association, one (1) airline operator, and four (4) state tourism boards along with several officials from Tourism Malaysia.
Tourism Malaysia's presence at TEJ this year aims to maximise tourism demand recovery and energise Japan market particularly to drive Japanese travellers to Malaysia significantly. In 2019, at least 100 countries participated with a total of 1,475 companies including national tourism organisations (NTO), attracting at least 151,099 visitors.
Tourists from Japan remain among the top 10 tourist arrivals and tourist expenditure, besides recording a longer average length of stay prior to the pandemic. Malaysia received 424,694 tourist arrivals from Japan in 2019, followed by 74,383 in 2020 and 3,114 in 2021.
"I am excited to announce that since the reopening of Malaysia's international borders, Japan is among the top 4 visitor source markets. There is a whole new Malaysia waiting for you to be discovered. Experience our natural wonders, through ecotourism activities, including sustainable and resilient island destinations, national parks, beaches, and our latest attractions," said Dato' Haji Zainuddin Abdul Wahab.
"The newly opened Genting SkyWorld, a special outdoor theme park located up in the highlands–, as well as the magnificent Merdeka 118 Tower in Kuala Lumpur, currently standing as the world's second-tallest building, expected to open in 2023. Malaysia and Japan have enjoyed a long-standing and close relationship that not only blooms in bilateral trade but also in the tourism industry," he added.
Malaysia opened its shores for quarantine-free travel on 1st April 2022 to welcome fully vaccinated international travellers. From 1st August 2022, the Ministry of Health (MOH) Malaysia has announced the relaxation of requirements for travellers to enter Malaysia.
Travellers are no longer required to fill in the Traveller's Card or undergo a PreDeparture Test (PDT) and On Arrival Test (OAT) for their visit to Malaysia. Travel insurance is also no longer a prerequisite for foreigners entering the country.
END
About Tourism Malaysia
Malaysia Tourism Promotion Board, also known as Tourism Malaysia, is an agency under the Ministry of Tourism, Arts & Culture Malaysia. It focuses on the specific task of promoting Malaysia as a preferred tourism destination. Since its inception, it has emerged as a major player in the international tourism scene. For more information, visit Tourism Malaysia's social media accounts at Facebook, Instagram, Twitter, YouTube, and TikTok.
For enquiries, please contact:
Sufian Zainuddin
Senior Assistant Director
International Promotion Division
(Asia/ Africa)
sufian@tourism.gov.my
Tel: +603 8891 8218
Muadz Samat
Assistant Director
Corporate Communications Division
muadz@tourism.gov.my
Tel: +603 8891 8755