PAVILION BUKIT JALIL BRINGS COMMUNITY TOGETHER WITH FESTIVE 'DEEPAVALI HARMONI' CELEBRATION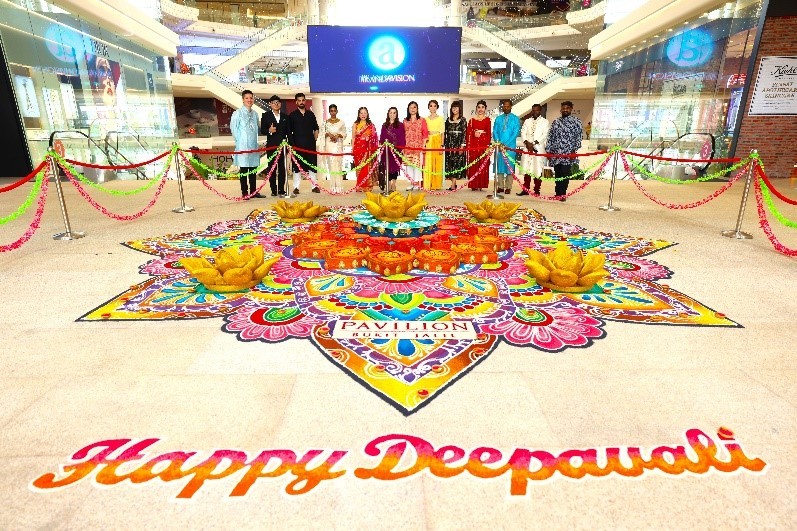 KUALA LUMPUR, 7 OCTOBER 2022 – From now until 31 October 2022, Pavilion Bukit Jalil presents 'Deepavali Harmoni', a festival welcoming shoppers to celebrate the Festival of Lights, showcasing vibrant and colourful kolams, exciting festivities, performances and fashion show alongside harmonious shopping redemptions and more.

HARMONIOUS DÉCOR
From the breathtakingly beautiful lotus-inspired 3D Kolam at Main Entrance, Level 3 to picture perfect and Insta-worthy Kolam featuring a majestic 15-foot-tall Giant Peacock showcasing a gorgeous 20ft x 30ft kolam tail at Level 5, Pink Zone – shoppers are greeted with vibrant and intricate kolams designed by Kolam Master Ruben Prakash.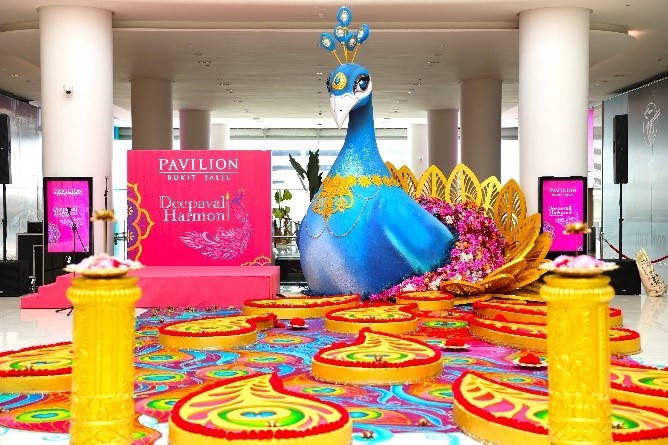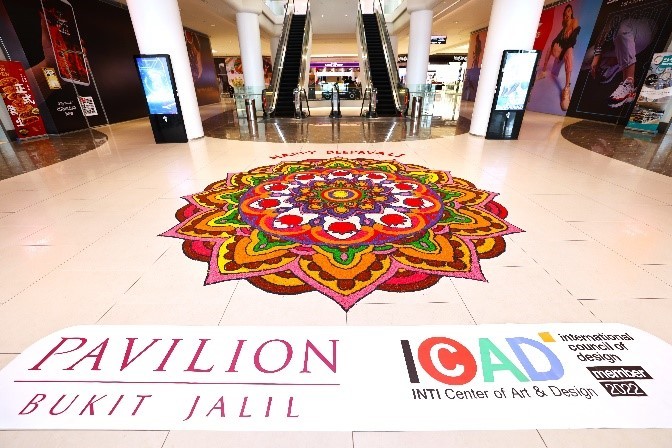 Reinforcing its positioning as an epicenter of exciting events and festivals, shoppers can also explore vibrant community kolams at the malls Bukit Jalil Entrance, Level 2 and PIAZZA Entrance, Level 3. Completed over a course of 2 days by over 100 students of the INTI Centre of Art & Design (ICAD), this collaboration is part of the mall's continuous initiative to nurture creativity amongst students while providing a platform for them to showcase their work.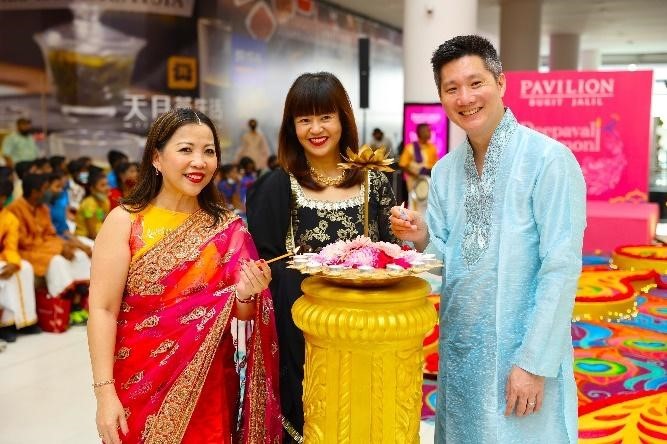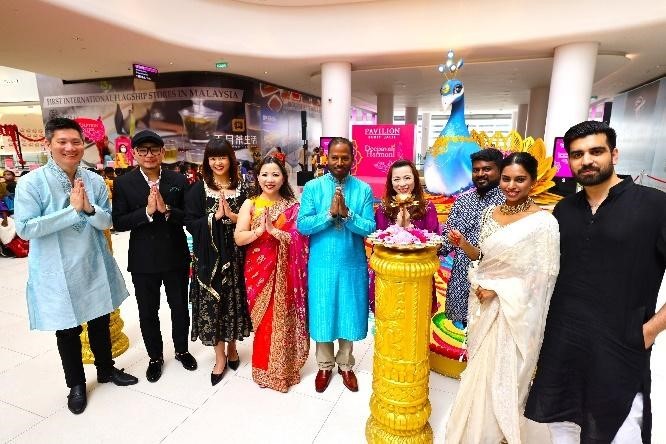 Pavilion Bukit Jalil Management Lighting Up a lotus inspired lamp accompanied by tenants and community leaders and tenants
HARMONIOUS GATHERING
To kick off the festivities, Pavilion Bukit Jalil hosted a Deepavali Celebration and Lighting Ceremony with Pavilion Bukit Jalil's Management, various community leaders, members Malaysia's Tourist Guides, tenants and over 80 students from Sekolah Jenis Kebangsaan (Tamil) Ladang Bukit Jalil. The event saw the different members of the community coming together to launch the 'Deepavali Harmoni' festivities in an event filled with vibrant colours as people donned their traditional Indian attire, music, dancing and art.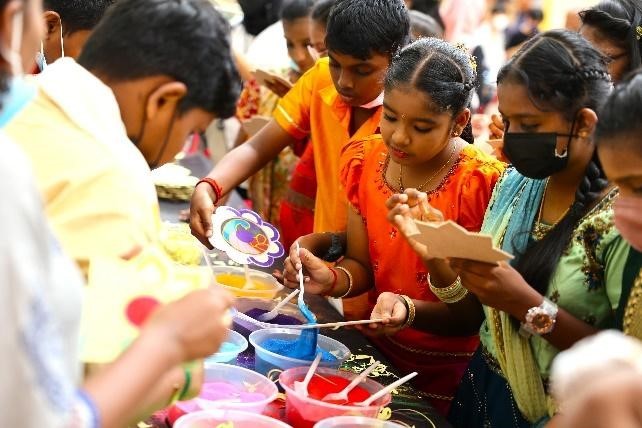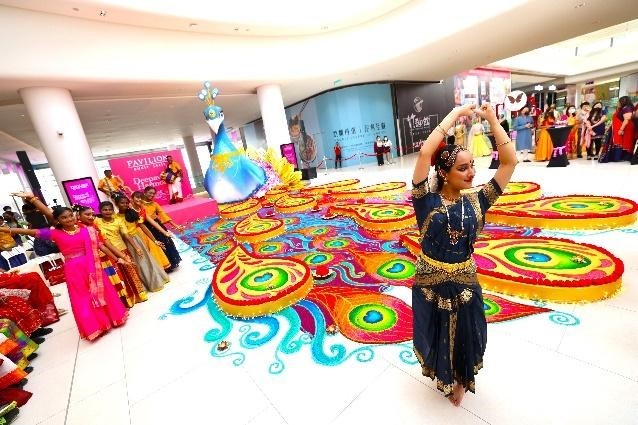 Kids from SJKT Ladang Bukit Jalil meticulously decorating Sand Art Kolams; A classical Bharatnatyam dancer enthralling guests


HARMONIOUS SHOPPING & REWARDS
Shoppers looking to channel their inner Bollywood star this Deepavali can drop by at the newly opened and first in Malaysia Yeshan Sarees, Level 2 (Pink Zone) for a wide range of ethnic Indian wear, including authentic Banarasi sarees, kurtas, lehengas and a handmade, custom-made wedding collection.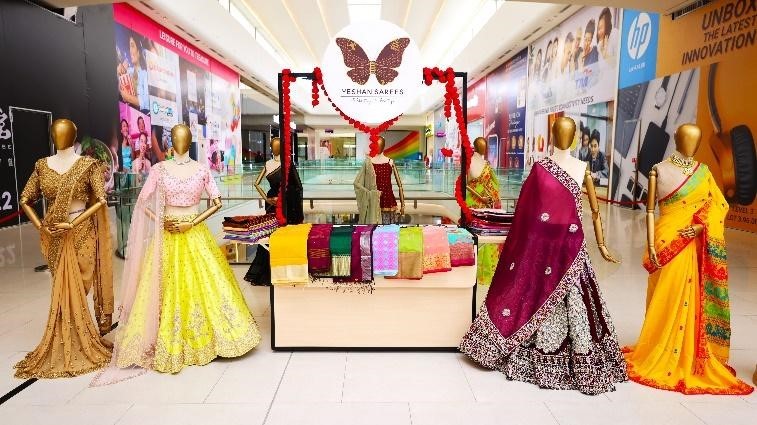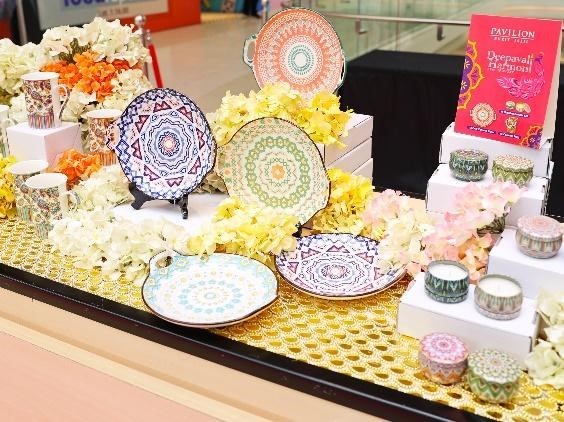 From now until 30 October, shoppers can also redeem limited-edition festive gifts such as
Ceramic Mugs - with a minimum spend of RM 100
Scented Candles - with a minimum spend of RM 200
Oval Ceramic Plates - with a minimum spend of RM 300

HARMONIOUS FESTIVITES
As a community centric mall, Pavilion Bukit Jalil is also hosting a variety of events for shoppers to enjoy:
An enthralling performance from the classical Bharatanatyam dance group 'Jewels of Sadir' on the 9 October from 2.00 - 2.30pm at the Level 2, Orange Zone.
Shoppers can also expect a Diwali Fashion Show by MOVEkids on 16 October from 2.00pm - 2.30pm, featuring 17 kids showcasing traditional Indian attire.
Additionally, there will also be a Deepavali Dance Show featuring a massive dance troupe of 500 people on 19 October from 4.00pm - 5.00pm.
For more information on the various Deepavali activities, visit www.pavilion-bukitjalil.com, check for real-time updates via Facebook, Instagram, or contact Customer Service at 03 8092 8833.

###
About Pavilion Bukit Jalil
Located in the heart of Bukit Jalil, Pavilion Bukit Jalil, the Icon of Connectivity – Malaysia's lifestyle shopping mall sets to transform the southern corridor of Kuala Lumpur into the new cornerstone of metropolitan lifestyle and retail. With Net Lettable Area (NLA) of 1.8 million square feet, Pavilion Bukit Jalil will offer a vibrant retail mix, gastronomical wonders and innovative recreations, reinforcing its position as the lifestyle shopping destination connected to the best-in-class retail, dining and leisure experience.