MALAYSIA CULINARY WORLD CUP 2023 SETS RECORD FOR LARGEST COOKING COMPETITION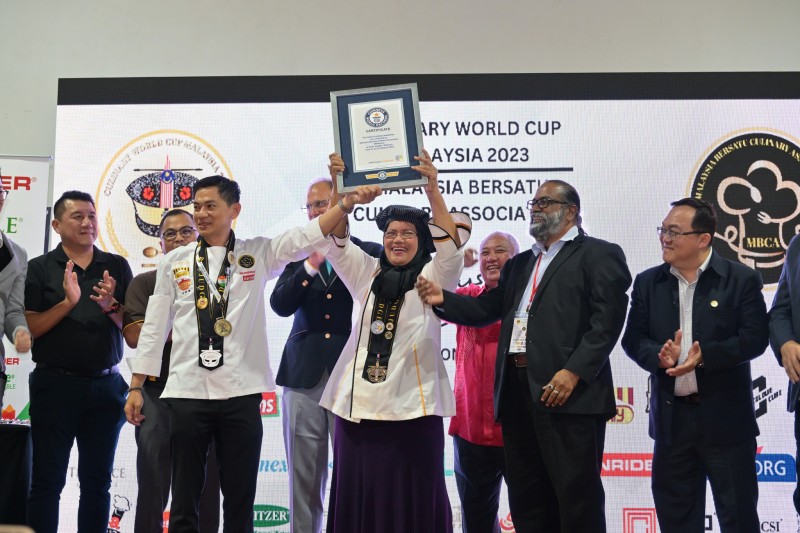 KUALA LUMPUR, 26 February 2023 – Malaysia Culinary World Cup 2023 organised by Malaysia Bersatu Culinary Association (MBCA) has successfully set a new Guinness World Record for holding the world's largest cooking competition. A total of 713 local and international participants from 12 countries from as far as Morocco, Saudi Arabia, and Egypt took part in the competition from February 21 to 23, 2023 at the World Trade Centre Kuala Lumpur.
The world record was made official when Mr. John Garland, the official Guinness World Records adjudicator presented the certificate to Chef Arthur Lim, Organising Chairperson and President of MBCA. The ceremony was witnessed by Mr. Sulaiman Suip, Senior Deputy Director, Package Development Division, Tourism Malaysia.
"We are delighted that the competition has managed to set a new world record whilst being a stepping stone to introduce Malaysia's diverse and authentic cuisine to the world", said Chef Arthur Lim.
The announcement of the record also concluded the three-day competition which welcomed over 3,500 visitors. One of the highlights of the competition is their very own 'mystery box' challenge, Malaysia Heritage Food Black Box Competition, an open category eligible to both professional and aspiring chef teams from hotels, culinary academies, and colleges, each of which was tasked to creating and presenting a unique gourmet menu.
The competition's main nine categories and 62 sub-categories that were judged on various aspects such as innovation, taste, hygiene, Mise-En-Place and techniques.
The outstanding teams and individual with the highest possible score throughout the competition was also awarded during the last day of the event. The winners for the outstanding awards are as follows:
Outstanding India Cuisine
India 1) Rinku Shah 2) Riddhibem Tank 3) Smitha 4) Sonul Ghandhi 5) Zallery Matha
Outstanding Team
AL Tamin Culinary restaurant
Outstanding Hot Cooking Chef
Isamuddin B. Mohamad Yusoff
During the announcement ceremony, MBCA also revealed that the competition would be held every other year to highlight the global culinary scene while creating sustainable economic prospects for local and international food industry companies.
END
About Malaysia Bersatu Culinary Association (MBCA)
Malaysia Bersatu Culinary Association (MBCA) is an association registered under the Registry of Societies Malaysia at the national level formed by a group of professional chefs all over Malaysia. MBCA's vision is to preserve Malaysia's culinary traditions and to be a leading association to build a strong platform to promote Malaysian Gastronomy. MBCA also strives to nurture the young and sustain the industry with new creations and to be the hub for food trends in the industry locally and internationally.
Issued on behalf of the Malaysia Bersatu Culinary Association by Nextdor Property Communications.
For further media enquires please contact: