Driving Malaysia as the Preferred Destination for Educational and Cultural Exchange Through LEGOLAND® School Challenge 2023
KUALA LUMPUR, 17 May 2023 – LEGOLAND® Malaysia Resort today announced the return of the LEGOLAND School Challenge 2023 powered by Iskandar Investment Berhad, a coveted competition where primary and secondary school children get to showcase their ingenuity and creativity through LEGO® Model Building. Back for its second year, the competition is open to students from ASEAN countries for the first time, including schools from Singapore, Indonesia, Thailand, and the Philippines.
In 2022, over 205 student groups participated in the LEGOLAND School Challenge and benefitted from the opportunity to learn through play. This year, LEGOLAND Malaysia aims to increase the participation rate of the challenge to more than 400 school groups from the region.

The LEGOLAND School Challenge 2023, powered by Iskandar Investment Berhad, is designed to help students cultivate various soft skills, including teamwork, critical thinking, problemsolving and self-confidence. The Malaysian Ministry of Education (MoE) recognizes the program's benefits and has extended its endorsement for the competition. With MoE's support, Malaysian students can add their participation in the LEGOLAND School Challenge 2023 as their extracurricular activities.

This year's challenge theme calls for students to imagine and build Cities of The Future in LEGO bricks. Students can participate in the challenge in a few easy steps to stand a chance to win their share of prizes worth up to a total of RM100,000:
1. First, students need to form groups of 5-15 students with 1-3 teachers and register their group on the LEGOLAND School Challenge 2023 website from now until 26 May.
2. Once they have been registered, student teams need to ideate and start building their futuristic LEGO cities.
3. For their final submission, teams need to upload pictures of their model alongside a photo, video, and written description about their design.
4. Submissions will be reviewed by an expert panel from LEGOLAND Malaysia, including a team of Master Model Builders.
5. Ten winning teams from two categories will be selected and invited to LEGOLAND Malaysia Resort for a prize-giving ceremony. Winners will also have a chance to display their builds in the resort for one month where guests can admire their creations.
6. In addition to a trip to LEGOLAND Malaysia Resort and a share of prizes worth up to a total of RM100,000, teams will be able to experience a special LEGO Building workshop with a Master LEGO Builder and some of the MoE-endorsed Education Programmes available in the resort.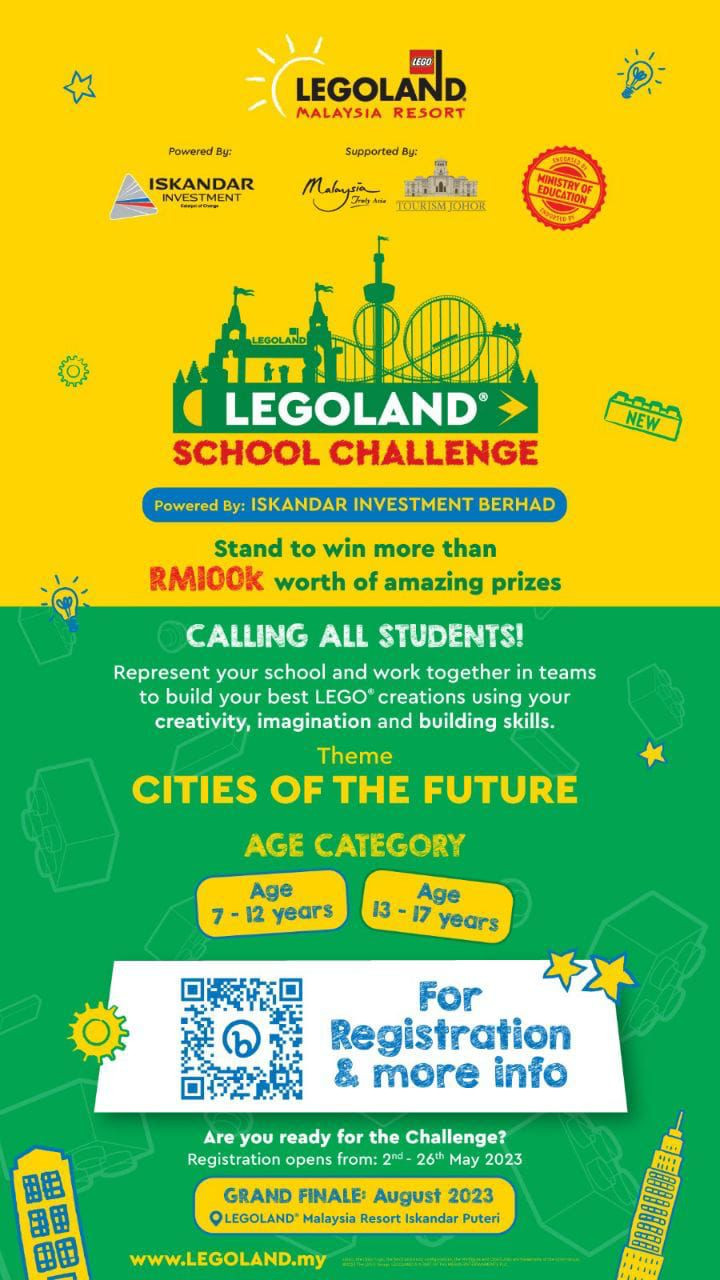 The LEGOLAND School Challenge 2023 is made possible with the active involvement and support across federal and state government departments, and partners including the Ministry of Tourism, Arts and Culture (MOTAC), Ministry of Education (MoE), Johor Tourism, Johor State Education Department, and Iskandar Investment Berhad (IIB).

As Malaysia aspires to be one of the top ten education destinations, we commend LEGOLAND Malaysia Resort's innovative approach to education tourism in promoting Malaysia as a hub for educational and cultural exchange in the region. We believe the collaborative effort between public and private sectors is the key to the resurgence of domestic and inbound travel and boosting the of tourist arrivals," said Dato' Dr Ammar Abd. Ghapar, Director-General, Tourism Malaysia.

"LEGOLAND Malaysia is more than just an international theme park. We recognize our unique role in driving domestic and international travel through innovative education tourism offerings. LEGOLAND School Challenge 2023 is developed to give students and teachers a taste of the meaningful and fun experience that LEGOLAND Malaysia offers. We also hope that the initiative will help boost awareness among families and LEGO fans across Southeast Asia to consider LEGOLAND Malaysia as a holiday destination – a place where they can endlessly immerse themselves in our LEGO DNA of learning through play and the cultural richness of the state of Johor," said CS Lim, Divisional Director, LEGOLAND Malaysia Resort.

"IIB is delighted to be the main partner for the LEGOLAND School Challenge 2023. As the strategic developer of Medini, Iskandar Puteri, we strongly believe in the power of education and its potential to the shape the future. This partnership embodies our commitment to fostering innovative thinking, creativity, and teamwork among the younger generation. We believe the challenge is an ideal platform for students to learn, explore and apply their scientific, technological, engineering, and mathematical skills in a fun, hands-on environment. The LEGOLAND School Challenge 2023 powered by Iskandar Investment Berhad, aligns with our mission to invest in tomorrow's talents and create meaningful, transformative experiences that inspire creativity, innovation and lifelong learning, all of which are the components of building an inclusive and sustainable future metropolis here in Medini," said Dato' Idzham Mohd Hashim, President and Chief Executive Officer of Iskandar Investment Berhad. For more information about the LEGOLAND Malaysia Resort's educational initiatives, parents, educators, and students can find out more on LEGOLAND Malaysia's official website. For the latest updates on promotions and activities, stay connected via Facebook and Instagram.

###

For media inquiries, please contact:
Cheng Sing Ying
LEGOLAND Malaysia Resort | Merlin Entertainments Group
Tel: +6 07 597 8816
Cheng.SingYing@legoland.my
Jerelynn Tee / Ashley Ong
Archetype Malaysia
Tel: +6 03 2282 2152
legoland@archetype.co
About LEGOLAND® Malaysia Resort
LEGOLAND® Malaysia Resort brings together a LEGOLAND Theme Park, Water Park, Hotel and SEA LIFE in one LEGO® themed location. It is the ideal family holiday destination with more than 80 hands-on rides, slides, shows, and attractions. It is the first of its kind in Asia that offers comprehensive adventure, education, and fun for either an action-packed day trip or a short break destination ideal for families with kids aged 2 to 12 years old.
The Theme Park is divided into eight themed areas containing thrilling rides, exciting LEGO workshops, awe-inspiring Miniland where Asia's interesting landscapes, countries and landmarks are recreated in miniature made with more than 30 million LEGO bricks. The Water Park is the largest LEGOLAND Water Park in Asia which features 20 unique slides, waves, wade pools, interactive water-play structure and Build-A-Raft River.
LEGOLAND Hotel Malaysia is the first LEGO themed hotel in Asia. Choose your preferred theme room at a hotel all equipped with LEGO theming elements, giving you choices to be trained like a NINJA, playing pirate, commanding a Kingdom or embarking on an adventure option. All rooms include a king-sized bed for parents and a separate private sleeping area for 3 kids. Participate in our in-room treasure hunt activity and stand a chance to win cool LEGO gifts.
SEA LIFE is the world's largest international aquarium brand with more than 50 outlets in the world and it is the latest addition to LEGOLAND Malaysia Resort. This attraction will immerse all guests in an intimate and interactive journey underneath the waves. All visitors will have chance to enjoy up-close experiences with sea creatures and be inspired to learn more about our blue planet's invaluable natural marine assets through magical storytelling, interactive displays and hands-on encounters. SEA LIFE Malaysia has more than 25 display tanks in 11 habitat zones featuring 13,000 amazing sea creatures. The Malaysian Rainforest is one of the unique exhibit zones featuring local creatures in Malaysia. Don't miss this special zone where you can never find it in other SEA LIFE attractions.
About Merlin Entertainments
Merlin Entertainments is the leading name in location-based, family entertainment. Europe's Number 1 and the world's second-largest visitor attraction operator, Merlin operates nearly 150 attractions, 23 hotels and 6 holiday villages in 24 countries and across 4 continents. The company aims to deliver memorable and rewarding experiences to its millions of visitors worldwide, through its iconic global and local brands, and the commitment and passion of its employees.
Visit www.merlinentertainments.biz for more information.