BERJAYA AIR CONTINUES TO DIVERSIFY WITH THE PURCHASE OF THE WORLD'S MOST MODERN AIRBUS HELICOPTERS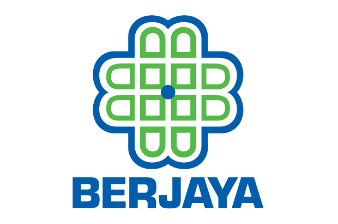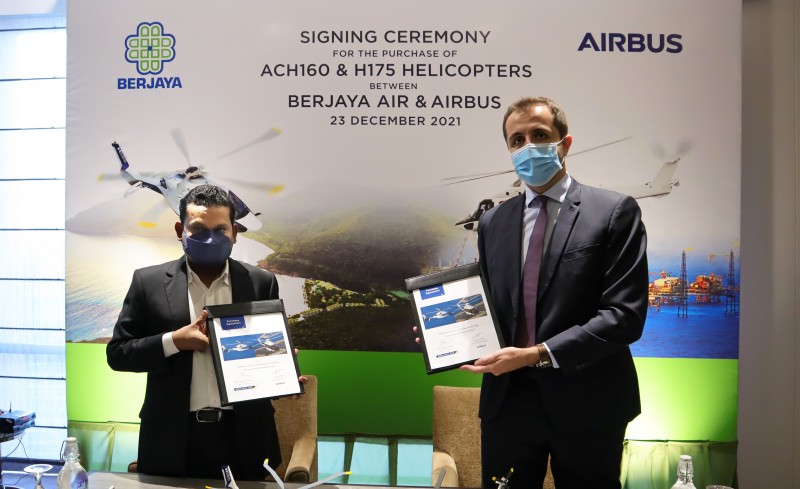 Syed Ali Shahul Hameed, CEO of Berjaya Land Berhad (left) and Laurent Cabrol, Head of Sales, Airbus Helicopters Malaysia at the signing ceremony in Berjaya Times Square Hotel, Kuala Lumpur.

Kuala Lumpur, 23 December 2021 – Berjaya Air Sdn Bhd ("Berjaya Air"), a subsidiary of Berjaya Land Berhad ("BLand"), is pleased to announce the purchase agreement of ACH160 and H175 helicopters with Airbus Helicopters. With this order, Berjaya Air becomes Malaysia's launch customer for the ACH160, and will be first in the world to operate the exclusive 10-seat VIP version of this ultra-modern corporate helicopter.
At the signing ceremony held at Berjaya Times Square Hotel, Kuala Lumpur, the purchase agreement was signed by Syed Ali Shahul Hameed, Chief Executive Officer of BLand and Laurent Cabrol, Head of Sales for Airbus Helicopters Malaysia.
The Airbus ACH160 is the premium version of the new H160 helicopter certified by European Union Aviation Safety Agency (EASA) and sets a new benchmark in corporate transportation as the most technologically advanced helicopter in its class. Laying claim to sixty-eight patents, as well as its range of stylish interiors including bespoke solutions, the ACH160 offers a smooth and quiet ride allied to the Helionix advanced digital avionics system, ensuring carefree handling and the highest level of safety, perfect for business and private aviation up to 10 persons.
The Airbus H175 belongs to the super-medium class of helicopters, combining long range with smooth flight qualities. It is designed to meet the most demanding requirements of oil and gas industry, search-and-rescue (SAR), emergency medical and public services, offering new levels of comfort with the largest cabin in its class, as well as low in-flight vibration and noise levels. This record-setting powerful rotorcraft provides highly cost-efficient service, with a capacity of up to 18 passengers, low fuel consumption and boasts increased flight safety and more versatility. The helicopter complies with the latest CS29 airworthiness standards, with the oil and gas version incorporating all of the safety and mission recommendations of the IOGP (International Association of Oil & Gas Producers).
Founder and Chairman of Berjaya Corporation Berhad, Tan Sri Dato' Sri Vincent Tan commented, "Our collaboration with Airbus, a world-leader in rotorcraft manufacturing, marks Berjaya Group's commitment to excellence for our customers. These avant-garde helicopters will be a game changer and create a new business segment in the aviation industry of Malaysia."
"The ACH160 and H175 are the best-in-class for BLand's aviation business expansion in providing private helicopter charter services via Berjaya Air to address the needs of utility aircraft transportation services for offshore, commercial, public services and also the growing demand for luxury business and private travel in the country. We are very excited to build a very strong partnership with Airbus and further solidify our contribution to Malaysian aviation," added Syed Ali.
"We welcome Berjaya Air as our new customer and are honoured by the decision to expand its business with the ACH160 and H175. These helicopters offer versatility, performance excellence and reliability, well suited for a variety of operations. We are confident that they would be invaluable additions to Berjaya. We look forward to growing our relationship with Berjaya in support of its new business venture," said Mr Fabrice Rochereau, Head of Sales, Asia Pacific at Airbus Helicopters.
- END -
ABOUT BERJAYA CORPORATION BERHAD
Established in 1984, Berjaya Corporation Berhad ("BCorp") began as a steel company and through the entrepreneurial skills and leadership of its founder, Tan Sri Dato' Seri Vincent Tan, BCorp has grown into one of Malaysia's largest home-grown diversified consumer groups listed on the Malaysian Stock Exchange.
BCorp's core businesses include Consumer Marketing and Direct Selling; Property Investment and Development; Hotels, Resorts, Vacation Timeshare and Recreational Development; Gaming and Lottery Management; Food and Beverage; Financial Services; Motor Trading and Distributor; Environmental Services and Clean Technology Investment; and Telecommunication and Information Technology-related Services and Products.
The Group has been responsible for a number of notable and sought-after developments, ranging from golf course resort development, luxury condominiums, integrated commercial development, and township developments within prime locations in Malaysia and overseas. The Group also owns and manages several prime commercial buildings in Malaysia as well as hotels and resorts across Malaysia and in countries like Vietnam, Philippines, Seychelles, Sri Lanka, United Kingdom and Japan.
ABOUT BERJAYA AIR SDN BHD ("Berjaya Air")
Berjaya Air Sdn Bhd ("Berjaya Air") was established in 1989 as part of Berjaya Group with scheduled operations based in Subang. Operating solely out of Subang Skypark Terminal, formerly known as the Sultan Abdul Aziz Shah Airport, Berjaya Air owns a mix of private and public aircrafts and helicopters.
For further enquiries/information, please contact:
Ms Lydia Lye – Assistant General Manager, Group Corporate Communications, Berjaya Corporation Berhad at 018-233 9512 / lydia@berjaya.com.my
Mr William Tan – Director, Corporate Marketing & Communications, Berjaya Hotels & Resorts at 03-2149 1957 / william.tan@berjayahotel.com