TOURISM MALAYSIA WELCOMES SINGAPORE'S SCOOT RESUMPTION OF DIRECT FLIGHTS TO KUANTAN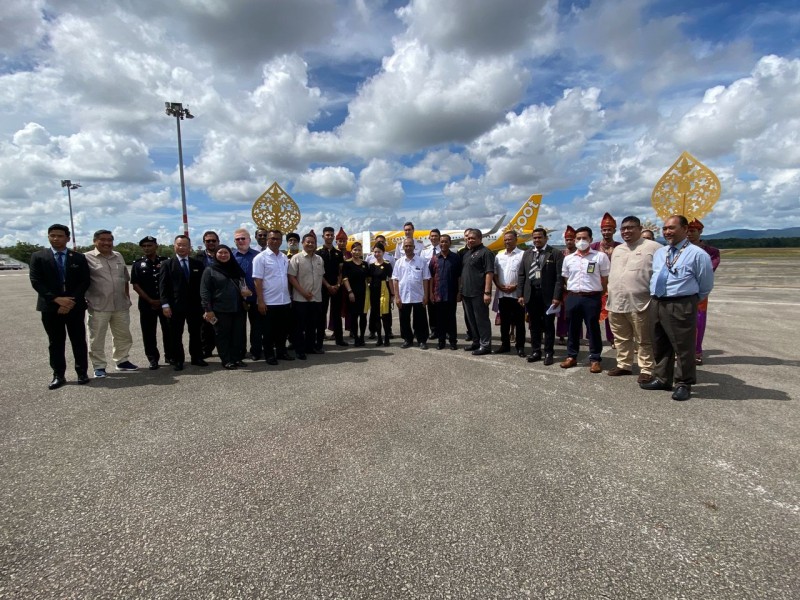 KUANTAN, 30 November 2022 – Tourism Malaysia today welcomes passengers boarding Singapore's low-cost airline, Scoot, on its return flight to Kuantan, Pahang.
The passengers were greeted by Dato' Hj. Zainuddin Abdul Wahab, Director-General of Tourism Malaysia and Dato' Sri Dr Sallehuddin Ishak, Pahang State Secretary, with cultural performances by the National Department for Culture and Arts (JKKN) Pahang.
Scoot reinstates its flight to Kuantan after two years of pausing due to the COVID-19 pandemic. The frequency is three times weekly from Singapore, Changi Airport to Kuantan, Sultan Ahmad Shah Airport.
The Airbus 320 flight departs every Wednesday, Friday and Sunday at 10.15 a.m. and arrives in Kuantan at 11.15 a.m., with a seating capacity of 180 passengers.
Dato' Zainuddin said: "The resumption of Scoot flight from Singapore to Kuantan will benefit the East Coast region, which is popular for its culture, food, nature, beaches and islands."
"Furthermore, the state of Pahang is also looking forward to future collaborations to further promote Pahang and East Coast region to the Singaporean market," he said.
END
About Tourism Malaysia
Malaysia Tourism Promotion Board, also known as Tourism Malaysia, is an agency under the Ministry of Tourism, Arts & Culture Malaysia. It focuses on the specific task of promoting Malaysia as a preferred tourism destination. Since its inception, it has emerged as a major player in the international tourism scene. For more information, visit Tourism Malaysia's social media accounts on Facebook, Instagram, Twitter, YouTube, and TikTok.
For inquiries, please contact:
Rugayah Mohamad
Senior Tourism Officer
Tourism Malaysia Eastern Region Office
rugayahmohd@tourism.gov.my
Tel: +609 567 71122
Muadz Samat
Assistant Director
Corporate Communications Division
muadz@tourism.gov.my
Tel: +603 8891 8755