TOURISM MALAYSIA'S FAM TRIP IS BACK TO KUALA LUMPUR, PAHANG & PERAK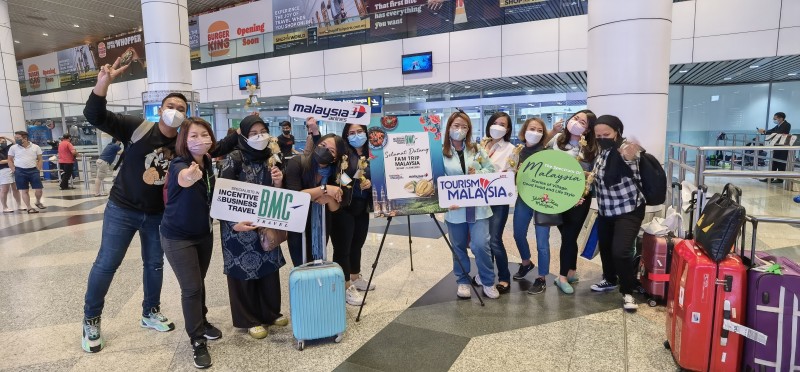 KUALA LUMPUR, 08 JUNE 2022 – Tourism Malaysia is taking travel trade partners and media from the Indonesian market on its familiarisation trip to promote Malaysia as a safe holiday destination and welcome more international travellers as the borders have fully reopened.

A total of six (6) travel agents and two (2) media aboard Malaysia Airlines from Jakarta for a five-day four-night (5D4N) trip in collaboration with BMC Travel Sdn Bhd from 30 st May to 3rd June 2022. Malaysia Airlines serves daily direct flights from Jakarta, Medan, Surabaya and Denpasar to Kuala Lumpur.
Participants had the chance to visit several destinations in Peninsular Malaysia including Kuala Lumpur, Cameron Highlands, the city of Ipoh, Perak as well as Bentong, Pahang, where they had the opportunity to try the locals' favourite Durian, Musang King.
Tourism Malaysia's fam trips are tailored to offer international tour operators and media valuable opportunities to gain first-hand experience of travelling to Malaysia in the post-pandemic. This timely programme will support Malaysia's target of achieving 2 million tourist arrivals and RM8.6 billion in tourist spending.
The director general of Tourism Malaysia, Dato' Haji Zainuddin Abdul Wahab, expressed his hope that after returning from this programme, Indonesian travel agents will start to be active again in selling tour packages to Malaysia, especially to new destinations such as Pahang and Perak to their customers.
Malaysia only recorded 711,723 Indonesian tourists in 2021, compared to the same period in 2019, with a total of 3.6 million Indonesians visiting Malaysia. We hope that this programme will motivate our industry friends to come back stronger in reviving the tourism industry said Dato' Haji Zainuddin.
Starting 1 st May 2022, fully-vaccinated inbound travellers are no longer required to undergo pre-departure and on-arrival COVID-19 tests, including children aged 12 and below as well as for those who have been infected with COVID-19 within six to 60 days before departure to Malaysia. Travel insurance is also not a prerequisite for foreigners entering the country.
The wearing of masks outdoors is optional but still mandatory indoors, including in shopping malls, offices, public transportation and e-hailing rides.
END
About Tourism Malaysia
Malaysia Tourism Promotion Board, also known as Tourism Malaysia, is an agency under the Ministry of Tourism, Arts & Culture Malaysia. It focuses on the specific task of promoting Malaysia as a preferred tourism destination. Since its inception, it has emerged as a major player in the international tourism scene. For more information, visit Tourism Malaysia's social media accounts on Facebook, Instagram, Twitter, YouTube, and TikTok.
For enquiries, please contact:

Haryanty Abu Bakar
Deputy Director
Tourism Malaysia Jakarta
haryanty@tourism.gov.my
Tel: (+6221) 522 0765/4947
Muadz Samat
Assistant Director
Corporate Communications Division
muadz@tourism.gov.my
Tel: +603 8891 8755