TOURISM MALAYSIA GOES THE EXTRA MILE TO RAMP UP ITS MARKETING EFFORT IN BANGLADESH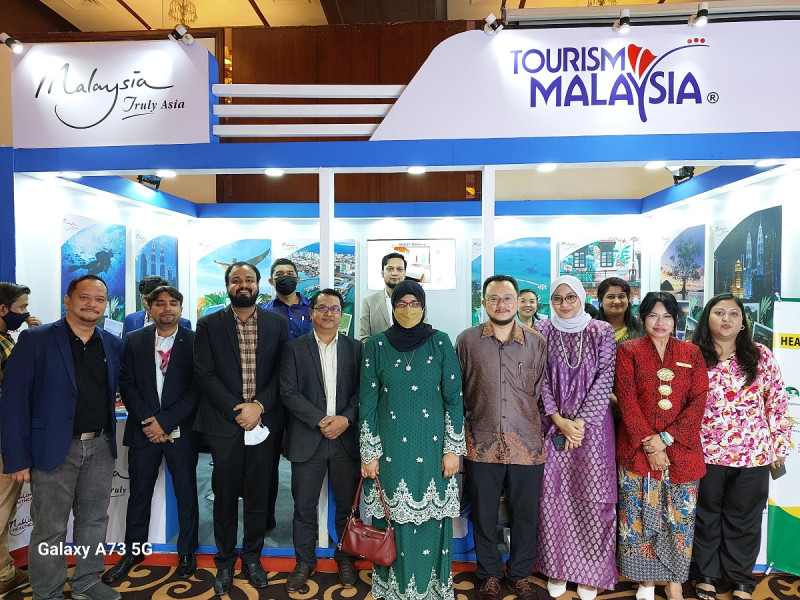 DHAKA, 19 May 2023 – Tourism Malaysia is leading the effort to promote Malaysia at Dhaka Travel Mart (DTM) 2023 and embark on its sales missions in several major cities, including Dhaka, Chattogram and Sylhet in Bangladesh from 21 to 25 May 2023.

The Malaysian delegation led by Mr Hafiz Hazin, Deputy Director International Promotions Division (Asia & Africa), comprises travel trade partners consisting of tour operators, travel agents, hoteliers, airlines as well as tour and activity providers, including representatives from Malaysia Healthcare Travel Council (MHTC) and Education Malaysia Global Services (EMGS).
With the growing demand for alternative and unique travel experiences, Malaysia has been diversifying its tourism products to cater to different types of travellers. Malaysia is also promoting medical, educational, and ecotourism to attract more tourists from Bangladesh and other countries in South Asia.
Dato' Dr. Ammar Abd. Ghapar, Director-General of Tourism Malaysia, said: "We believe Bangladesh is one of the important markets for us, and therefore committed to strengthening our presence and working alongside tourism fraternities in this region."
Tourism Malaysia's participation at DTM 2023 is a perfect avenue to raise Malaysia's profile and showcase its unique tourism product offerings and forge closer relationships with its Bangladeshi counterparts. On the other hand, the pre-arranged business-to-business (B2B) session in the sales mission opens doors to potential collaborations and further engagements.
In 2022, Malaysia recorded 10,070,964 international tourist arrivals and welcomed 59,033 Bangladeshi tourists. The number is projected to grow to 16.1 million international tourist arrivals, with RM49.2 billion in tourism receipts, as targeted in 2023.
Currently, visa applications to Malaysia can be made online through eVISA. In terms of connectivity, there are 37 direct flights with 7,269 seats offered weekly between Dhaka and Malaysia via Malaysia Airlines, Batik Air, AirAsia, Biman Bangladesh Airlines and US-Bangla Airlines.
END
About Tourism Malaysia
Malaysia Tourism Promotion Board, also known as Tourism Malaysia, is an agency under the Ministry of Tourism, Arts & Culture Malaysia. It focuses on the specific task of promoting Malaysia as a preferred tourism destination. Since its inception, it has emerged as a major player in the international tourism scene. For more information, visit Tourism Malaysia's social media accounts on Facebook, Instagram, Twitter, YouTube, and TikTok.
For inquiries, please contact:
Gazi Sharaffuddin Hasan
Marketing Executive Manager
Tourism Malaysia Dhaka
gazi@tourism.gov.my
Tel: +88 02 41081897
Muadz Samat
Assistant Director
Corporate Communications Division
muadz@tourism.gov.my
Tel: +603 8891 8755