PANGKOR ISLAND IS SET TO BE THE NEXT COVID-19 FREE DESTINATION
LUMUT, 25 July 2021 – The Ministry of Tourism, Arts and Culture has started its second phase of the Tourism Recovery Plan in Pangkor Island, Perak, with a mass vaccination programme to prepare the island as the next Covid-19 Free Destination.
Pangkor Island has been selected to pilot Phase 2 of MOTAC's COVID-19 Free Destination Programme. It is expected to reach the target of 80% of the group's immunity level by early September this year.
Following the pilot destination Langkawi, Kedah in Phase 1, more islands will follow suit in an attempt to revive the tourism industry, such as Redang Island, Perhentian Island, Tioman Island, and many others.
In cooperation with Manjung's District & Land Office and District Health Office, the vaccination outreach programme aims to achieve herd immunity for the island's population. At least 8,026 people are eligible to receive the vaccine from the total projected population of 11,500 in Pangkor Island. As of 11th July 2021, a total of 1,002 people have received their first dose of the vaccine while 1,056 people have completed their vaccination with two doses.
Minister of Tourism, Arts and Culture, Dato' Sri Hajah Nancy Shukri in her official visit to Pulau Pangkor's Women and Children Health Clinic today said that the vaccination program has started on 16th July 2021 for three (3) days a week (Friday, Saturday, and Sunday) for eight (8) consecutive weeks. It is targeted to vaccinate at least 540 people per day.
"Based on the records of the Covid-19 Immunisation Task Force (CITF) in Manjung District, the first dose is expected to be completed on 8th August, followed by the second dose on 13th August 2021. Hence, it is estimated that Pangkor Island will achieve its herd immunity in early September," she added.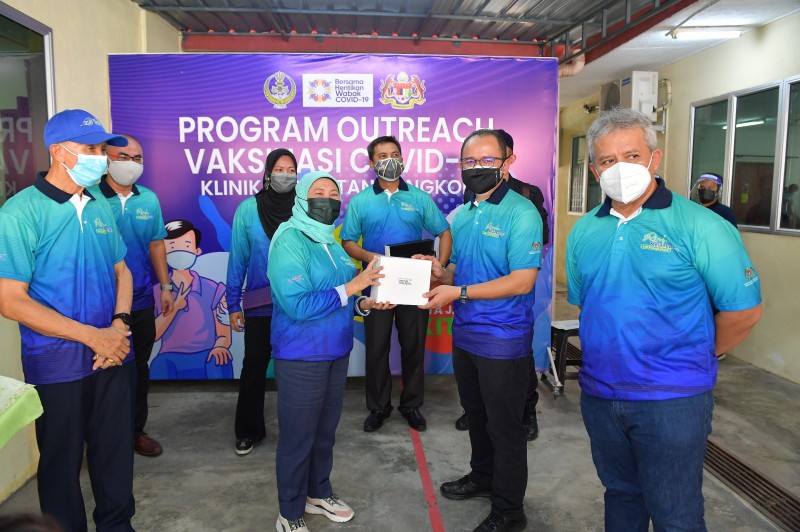 Dato' Sri Hajah Nancy Shukri hands over a token of appreciation to Mr. Amirudin Kesmiran, Coordinating Officer of the National Security Council (NSC) Manjung, Perak.
To promote its Rindu Melancong? Jom Vaksin Dulu! Campaign, MOTAC has also collaborated with the Malaysian Association of Taxi/ Limousine Drivers and Operators and Car Rental Operators (PETEKMA) Pangkor Island Branch to facilitate the movement of villagers to receive their vaccines. The campaign is also actively carried out by Tourism Malaysia to encourage locals to get their vaccinations so they can travel safely.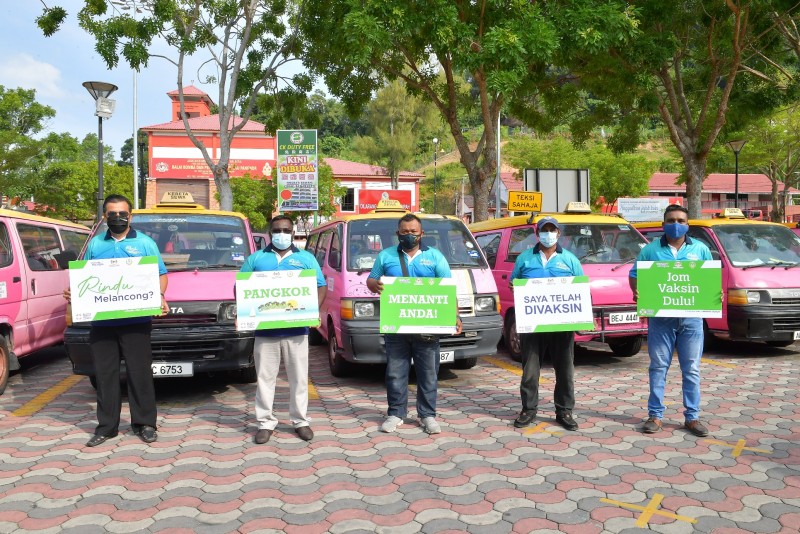 MOTAC collaborates with PETEKMA Pangkor Island Branch to facilitate the movement of villagers to receive their vaccines.
"Even though they have registered through the MySejahtera app, we will try to help speed up and double the number of the vaccination rate," said YB Dato' Sri Hajah Nancy. "We at the Ministry of Tourism, Arts and Culture (MOTAC) are helping to double the number of people, including the frontline workers in the tourism sector."
To catch a glimpse of the programme, watch our video here.
END
About Tourism Malaysia
Malaysia Tourism Promotion Board, also known as Tourism Malaysia, is an agency under the Ministry of Tourism, Arts & Culture Malaysia. It focuses on the specific task of promoting Malaysia as a preferred tourism destination. Since its inception, it has emerged as a major player in the international tourism scene. In 2019, Malaysia registered 26.1 million tourist arrivals and RM86.14 billion tourist receipts, placing it among the major tourism destinations of the world.
For enquiries, please contact:
Muadz Samat
Assistant Director
Corporate Communication Division
Tourism Malaysia
muadz@tourism.gov.my
Tel: +603 8891 8755
Corporate Communication Unit
Ministry of Tourism, Arts and Culture
info@motac.gov.my
Tel: +603 8000 8000