MALAYSIA WELCOMES XIAMEN AIRLINES INAUGURAL FLIGHT FROM CHONGQING TO KUALA LUMPUR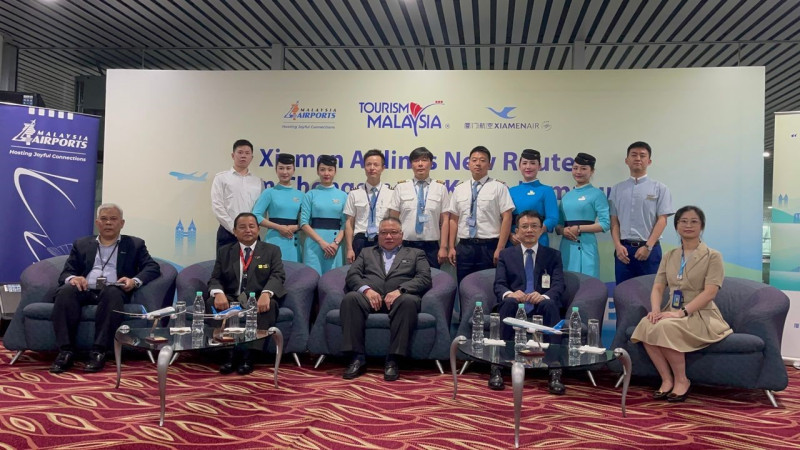 PUTRAJAYA, 15 May 2023 – Xiamen Airlines officially commenced its inaugural flight from Chongqing to Kuala Lumpur today, marking an important milestone in boosting travelling between China and Malaysia, as well as enhancing tourist traffic between the two destinations.

The maiden flight touched down at Kuala Lumpur International Airport (KLIA) Airport Terminal 1, and the passengers were welcomed by Tourism Malaysia and Malaysia Airports Holdings Berhad (MAHB) management teams at the boarding gate.
The new direct flight will fly four times a week on Monday, Wednesday, Friday, and Sunday, bringing more convenience to the people of the two countries in bridging the economic and cultural exchange and investment.
YB Dato Sri Tiong King Sing, Minister of Tourism, Arts and Culture Malaysia, said: "We are thrilled with the launching of this new route by Xiamen Airlines to accommodate the increased travel demand and enhance connectivity to Malaysia.
"As of now, we have 175 weekly flights from China to Malaysia. We aspire to have more direct flights and even charter flights to Malaysia via strategic collaborations with airlines as we are targetting 3.5 million Chinese tourist arrivals this year."
Malaysian Prime Minister Datuk Seri Anwar Ibrahim's visit to China last March, which coincided with the 10th anniversary of the establishment of a Comprehensive Strategic Partnership (CSP), has deepened the Malaysia-China relationship.
With the launch of the non-stop flight to Chongqing, Xiamen Airlines operates 25 flights to China every week, including Kuala Lumpur to Xiamen (two daily flights) and Kuala Lumpur to Fuzhou (one daily flight).
Xiamen Airlines, in a statement, said: "We will continue to improve the service quality and launch more customised products to provide passengers with more convenient and warm services for travel. We treat our passengers with sincerity and will continue to fulfil our mission of "taking more people to explore the world"."
END
About Tourism Malaysia
Malaysia Tourism Promotion Board, also known as Tourism Malaysia, is an agency under the Ministry of Tourism, Arts & Culture Malaysia. It focuses on the specific task of promoting Malaysia as a preferred tourism destination. Since its inception, it has emerged as a major player in the international tourism scene. For more information, visit Tourism Malaysia's social media accounts on Facebook, Instagram, Twitter, YouTube, and TikTok.
For inquiries, please contact:
Nuwal Fadhilah Ku Azmi
Deputy Director
International Promotions Division (Asia & Africa)
nuwal@tourism.gov.my
Tel: +6012 334 7754
Muadz Samat
Assistant Director
Corporate Communications Division
muadz@tourism.gov.my
Tel: +603 8891 8755