MALAYSIA PARTICIPATED IN ASEAN TOURISM FORUM 2023 FOR UNITED RECOVERY MISSION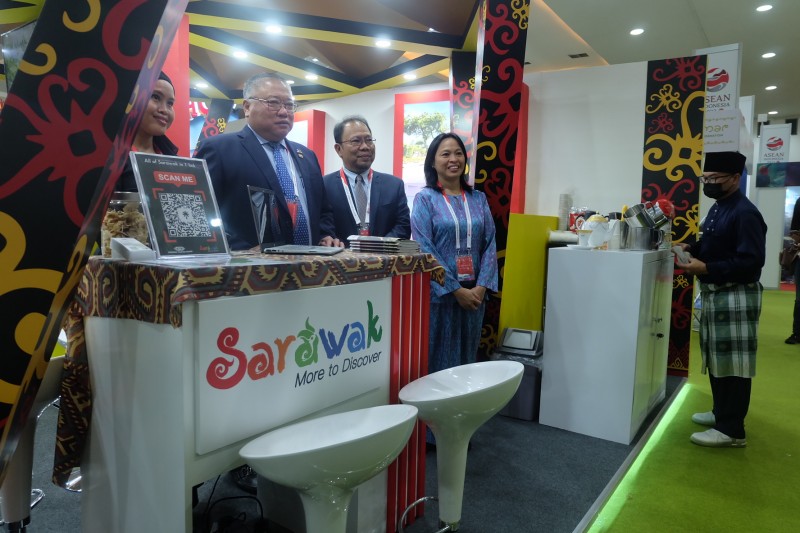 YOGYAKARTA, 8 February 2023 – Malaysia's delegation to the ASEAN Tourism Forum (ATF) this year comes with a mission to combine effort with all ASEAN counterparts for the recovery of the tourism industry in the region. Malaysia is committed to revitalise tourism and to reopen its doors to international tourists.
Leading the Malaysian delegation to this Southeast Asia's largest tourism trade event is Tourism, Arts & Culture Minister, H.E Dato' Sri Tiong King Sing. He is accompanied by Dato' Saraya Arbi, Secretary General of Ministry of Tourism, Arts and Culture, and Dato' Zainuddin Abdul Wahab, Director General of Tourism Malaysia.

H.E Minister will attend the 26th ASEAN Tourism Ministers meeting, and the 22nd ASEAN Plus Three Tourism Meeting's Meeting. The official opening ceremony of ATF 2023 is set on 3rd January 2023 by the H.E Indonesian President Ir. Joko Widodo at the historical Prambanan Temple.

Joining the Malaysian delegation are representatives from Sarawak Tourism Board, Malaysia Healthcare Travel Council (MHTC) and Malaysia Airlines (MAS).

ATF 2023 will cover two concurrent events, namely the Ministerial and Bilateral meetings in Marriot hotel, while the TRAVEX is in the Jogja Expo Center (JEC) which serves as a platform for suppliers of ASEAN tourism products and services and qualified buyers from around the world to meet through pre-scheduled appointments. Both meeting and travel fair are hoped to boost ASEAN tourism business and bilateral understanding at highest level.

For TRAVEX, Malaysia constructed a beautiful tourism-themed booth, depicts the many attractions that Malaysian tourism has to offer, situated at AS 0.005 Hall B, in Jogja Expo Center (JEC).

"Malaysia tourism is well underway for recovery, as we managed to surpass the target of 9.2 million international arrivals in 2022." said Dato Sri Tiong.

END
About Tourism Malaysia
Malaysia Tourism Promotion Board, also known as Tourism Malaysia, is an agency under the Ministry of Tourism, Arts & Culture Malaysia. It focuses on the specific task of promoting Malaysia as a preferred tourism destination. Since its inception, it has emerged as a major player in the international tourism scene. For more information, visit Tourism Malaysia's social media accounts on Facebook, Instagram, Twitter, YouTube, and TikTok.

For enquiries, please contact:
Mohd Hafezin Khadiri

Senior Assistant Director
International Promotion Division (ASEAN)
hafezin@tourism.gov.my
Tel: +603 8891 8259
Muadz Samat
Assistant Director
Corporate Communications Division
muadz@tourism.gov.my
Tel: +603 8891 8755