Apr 8, 2021
Share this article
GAMELAN 2022
NOTIS PEMAKLUMAN
1.TARIKH AKHIR PERMOHONAN GERAN SEPADAN GALAKAN MELANCONG MALAYSIA (GAMELAN) BAGI TAHUN 2022 IALAH PADA 12 DISEMBER 2022. PERMOHONAN SELEPAS TARIKH INI TIDAK AKAN DIPROSES.
2.PERMOHONAN GAMELAN BAGI TAHUN 2023 HANYA AKAN DIBUKA TERTAKLUK KEPADA KEPUTUSAN KEMENTERIAN KEWANGAN MALAYSIA


TERIMA KASIH
---
NOTICE
1.APPLICATION FOR GERAN SEPADAN GALAKAN MELANCONG MALAYSIA (GAMELAN) 2022 WILL BE DUE ON

12 DECEMBER 2022. ANY APPLICATION BEYOND THE DATE WILL NOT BE ENTERTAINED.
2.APPLICATION FOR GAMELAN 2023 ONLY BE OPENED SUBJECT TO THE DECISION OF THE MINISTRY OF FINANCE MALAYSIA


THANK YOU
---
OBJECTIVE
Lembaga Penggalakan Pelancongan Malaysia (LPPM) – known as Tourism Malaysia - is the implementation agency for Galakan Melancong (GAMELAN) Malaysia to stimulate Malaysia Tourism promotional activities with the objective to revive domestic tourism and increase revenue to the country.
FORM OF GRANT
The allocation format is through reimbursable financial assistance provided under the Special Allocation by Ministry of Finance, (MOF) and channelled to Ministry of Tourism, Arts and Culture (MOTAC).
GRANT CEILING
An amount of RM200,000 per eligible company for each financial year.
(Any company which has utilized the full grant amount of RM200,000, since the date of commencement of GAMELAN in 2019, will no longer be eligible for consideration)
*GAMELAN reimbursements for any given year will be subjected to the availability of the fund.
REIMBURSABLE AMMOUNT
The claim amount is based on one (1) participation which is 50% from the actual eligible expenses OR based on ceiling per activity/programme – whichever is lower. The total maximum claim per activity/program is stated in Eligibility Criteria Schedule.
ELIGIBLE APPLICANTS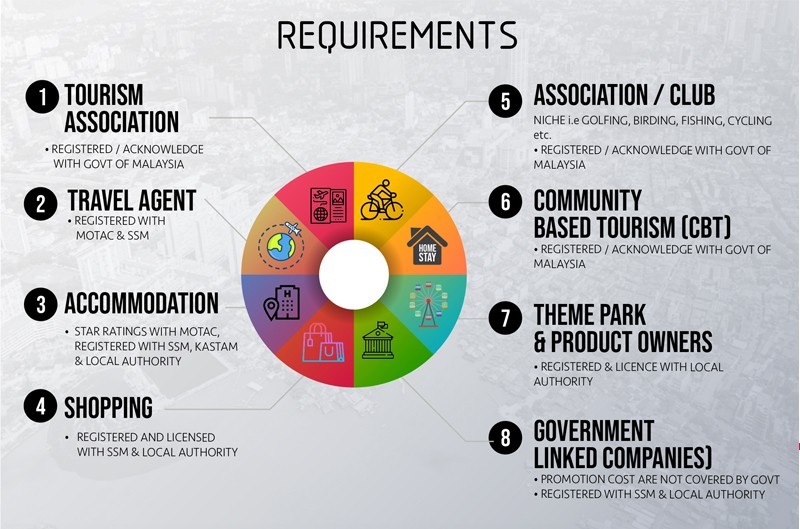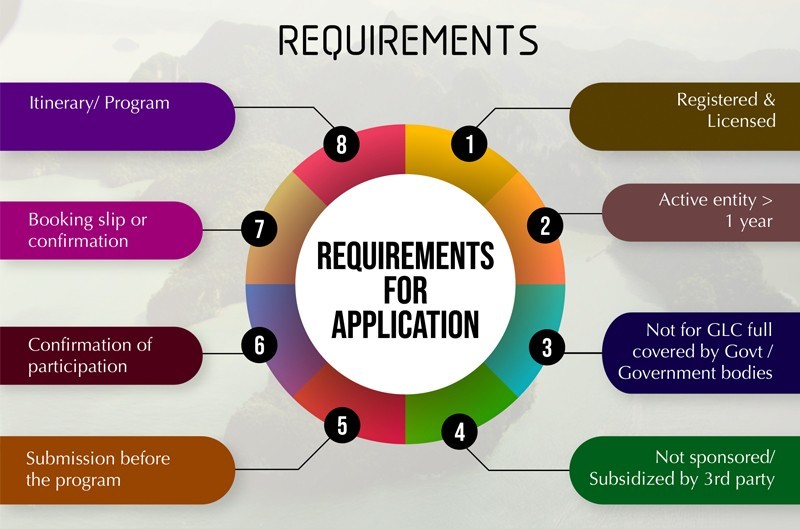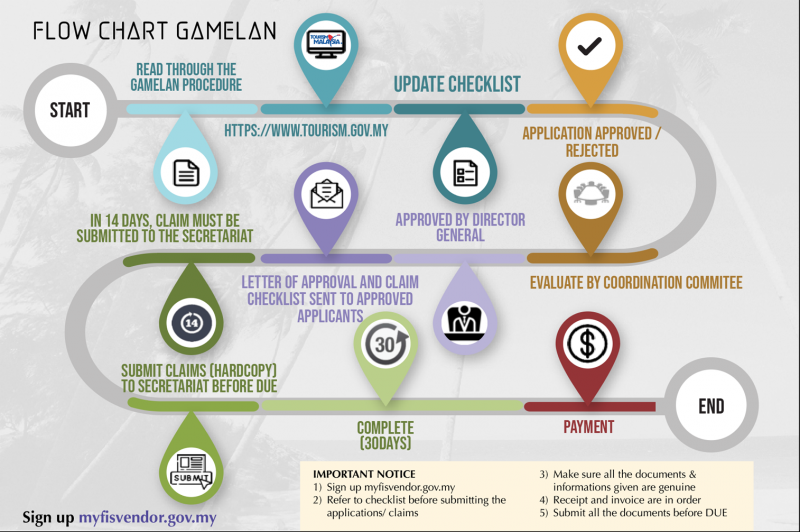 Applicant must submit Form A, B & C and all the related documents to:

GAMELAN SECRETARIAT
STRATEGIC PLANNING DIVISION
MALAYSIA TOURISM PROMOTION BOARD
Level 2, No. 2, Tower 1
Jalan P5/6, Presint 5
62200 PUTRAJAYA
Contact Number: +603-8891 8154 / 8283 / 8215 / 8153 / 8287